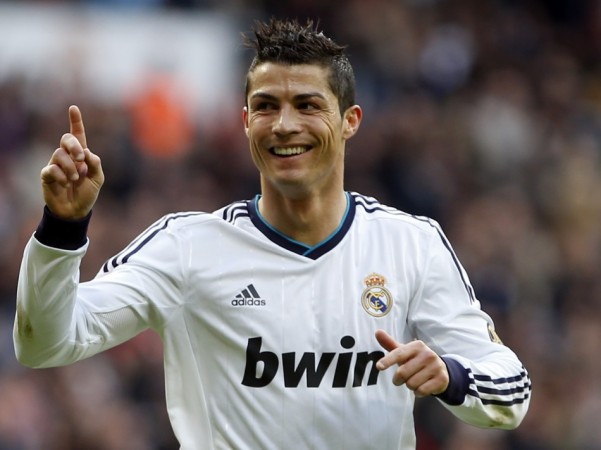 Even as Manchester United express hope of bringing Cristiano Ronaldo back to Old Trafford, Real Madrid has reportedly shut the doors by offering the Potuguese star a whopping fee that might make the English club turn their back.
Real Madrid President Florentino Perez is eager to sign a new deal with Cristiano Ronaldo and ready to offer him more than £125million over five years, as against £30million a year reportedly demanded by the winger's representatives, reported The Sun.
"I would bet Cristiano will retire at Real Madrid because it's the natural thing. We will negotiate the new contract before the start of La Liga and I am convinced that everything will come out well," The Sun quoted Perez as saying.
It was reported that Manchester United were prepared to offer £65million plus a player in a bid to bring back its 28-year-old former star, who left for Real Madrid four years ago.
However, Cristiano Ronaldo has hinted that he would stay at Bernabeu.
"I'm calm. I'm not worried about it, I know we are going to reach an agreement to sign a new deal and for that if I am honest, I'm not preoccupied about it," The Sun quoted Ronaldo as saying.
Meanwhile, Manchester United has signed Uruguayan defender Guillermo Varela, the first sign up for new coach David Moyes since he took up the mantle from Sir Alex Ferguson a few weeks ago.
It is also reported that Manchester United is keen to bring Barcelona's Cesc Fabregas to Old Trafford. The 26-year-old Spaniard has been linked to Arsenal despite insisting to stay in Barcelona, and now David Moyes is reportedly keen to bring him to Old Trafford as there are possibilities of Wayne Rooney leaving the club.
Manchester United are said to be willing to place a £40m bid for Cesc Fabregas, reported the Metro.
Rumours have it that Manchester United are on the verge of signing Argentine defender Ezequiel Garay for a reported fee of £17 million. It was reported that Garay, who moved to Benfica from Real Madrid, would return to Santiago Bernabeu but Manchester United's new coach David Moyes seems to have convinced him to sign for the club.
Other players linked with the Red Devils include Yohan Cabaye and Kevin Strootman.
Meanwhile, Wayne Rooney, 27, who has been sidelined ever since Robin van Persie joined Manchester United, has reportedly placed a transfer request to Sir Alex Ferguson. He could well leave Old Trafford after nine years if the new coach David Moyes fails to convince him in the coming weeks.
Several clubs like Arsenal, Chelsea, Paris Saint-Germain and Bayern Munich have reportedly shown interest in signing the England striker if Manchester United give green signal for his exit.