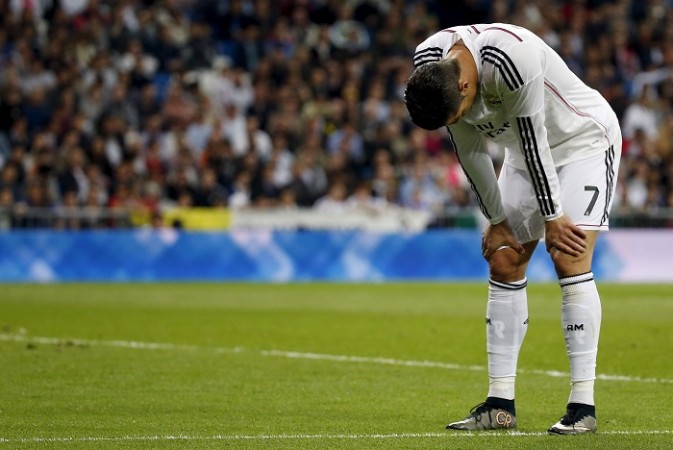 Manchester United could yet complete one of the biggest signings of the summer, with Cristiano Ronaldo tipped by the agent of Iker Casillas to leave Real Madrid.
Ronaldo to Manchester United was one of the stories of last summer, and while there have been hardly any reports of a possible return for the superstar to Old Trafford, the sleeping transfer story giant could be woken up if agent Santos Marquez's words are anything to go by.
Marquez, who is the agent of former Real goalkeeper Casillas, believes Ronaldo's decision to sell his image rights to a third party – in this case to the owner of Valencia Peter Lim – is a sign that the Portuguese is planning his exit from Real Madrid.
"One day he [Real Madrid president Florentino Perez] will also need to explain why Cristiano works for another company outside of Real Madrid," Marquez told AS in an interview. "Imagine Cristiano generating €40million elsewhere and giving it to Peter Lim, Valencia's owner.
"It ends up in Valencia's coffers and that's deplorable.
"Will anyone speak out and ask Florentino why Cristiano has sold his image rights to Peter Lim? That's not normal and it suggests that Cristiano is planning to leave."
Marquez also did not mince words when he was asked about the circumstances in which Casillas had to leave Real Madrid for FC Porto, with the agent insisting it will eventually cost Perez his job.
"Florentino will eventually have to leave Madrid as a result of the Casillas saga," Marquez added. "I don't know when that will happen but it will.
"He was happy and Madrid is his home but they didn't want him."
While there might be some truth in Casillas being forced out of Real Madrid, the Ronaldo "planning to leave" part is a little difficult to swallow.
As much as Manchester United would love to have Ronaldo back in their team, leading them back to the top of the Premier League, the Portuguese has repeatedly said he sees his future at Real.
Of course, Casillas also said the same thing quite a few times in the past, but the only way Ronaldo is likely to leave Real Madrid is if he has a major falling out with Rafa Benitez or Perez. If it is the former, then the likely scenario is the manager making way, because Ronaldo will surely be seen as a bigger asset.
Manchester United, though, do have the finances in place to be able to pull off a spectacular deal to bring Ronaldo back to the Premier League, and you feel Ed Woodward will be keeping an eye on the situation so that he is ready pounce at the first signs of the prolific forward wanting to make a way out of the Bernabeu.