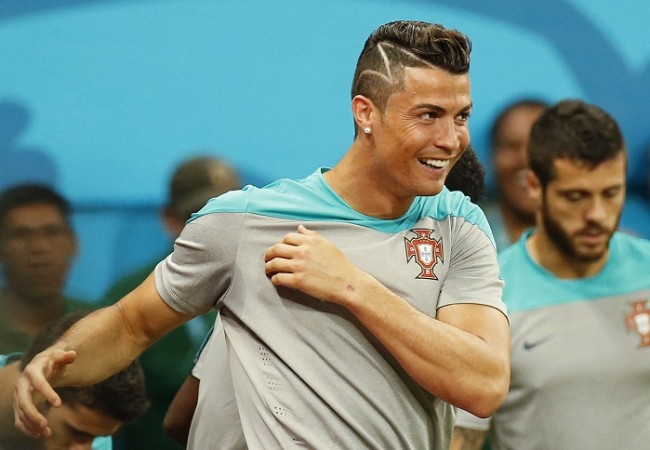 Manchester United fans have been put on red alert after Cristiano Ronaldo hinted at making a move back to Old Trafford in the future, saying that he still has a lot of love and passion for his former club.
Last summer, there were a lot of speculations of the 29-year-old, who completed a £80 million switch (a world record then) to Real Madrid in the summer of 2009, returning to Old Trafford.
But the rumours all disappeared when the 2013 Ballon d'Or winner puts to paper a new bumper contract with the Spanish giants.
Still Ronaldo, who will not be featuring during Real Madrid pre-season friendly clash against the Red Devils on Saturday, has refused to rule out a move to Manchester United in the future.
"It was one of my favourite clubs, Manchester," said Ronaldo, according to the Telegraph. "Everyone knows that every time when I speak about Real Madrid I should speak about Manchester United, I loved it there."
"I was 18 years old (when I signed), I win everything there, the people treat me like a God there so I appreciate that and the future, nobody knows. I remember when we played there against Manchester in the Champions League, -- they kill me, my heart was so happy."
The former Sporting player, who recalled all the 'fantastic moments' at Old Trafford, says that he is still in touch with some of his former teammates.
"I had fantastic moments and I appreciate this club. For me, it's one of the best clubs in the world and I have passion for this club," he added. "Some players I am still in contact with because when I was there, I created a good relationship with everybody, not just the players, but all the staff around."
"It was like my second family there, so I'll not forget that the people treat me good. I love Manchester, and to be back, I never know, you never know. Football you never know."
Despite claiming that he is very happy at Real Madrid, Ronaldo hinted at making a move to his former club in the future.
"Of course, I'm happy at Real Madrid, it's my home, it's my club, but Manchester treated me unbelievable so we never know."
Meanwhile, Ronaldo has backed new manager Louis van Gaal to turn things around at Old Trafford, following a disastrous campaign under David Moyes last season.
"It will be a better season for sure," Ronaldo added. "My feeling is he is a fantastic coach, he showed them all the time for Holland, the team play unbelievable, good football and I hope that Manchester come back like the people know."
"A strong United, playing nice football, with a lot of goals. I think Van Gaal is going to do a fantastic job, he's experienced manager and I think he's going to do well for Manchester."