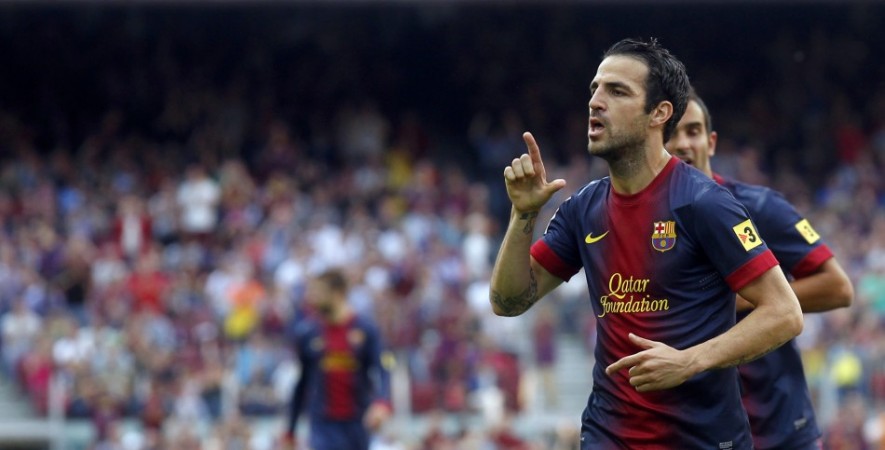 Manchester United are going all out to bring Spanish midfielder Cesc Fabregas to Old Trafford, and they are reportedly preparing to make a third bid for him, but it looks like he is not in the mood to leave Real Madrid.
The Premier League Champions had made an initial £25m bid for Cesc Fabregas before improving the offer to above £30m but Barcelona rejected both the offers. They are reportedly planning for a third bid - £35million - but sources from Nou Camp said that the midfielder is happy in Spain.
"United are wasting their time. It took a long time for Cesc to get his dream move back home and he won't give it up. This is home, it is where his family is, and he is playing with his closest friends. He has told us he is happy and that he intends to stay with Barcelona," Fabregas' team mate and friend, Gerard Pique told The Sun.
Spanish media also reported that Barcelona president Sandro Rosell has clearly told Manchester United that "Fabregas is not for sale."
However, Manchester United manager David Moyes is still optimistic that Old Trafford chief executive Ed Woodward would sign some big names before the transfer window ends.
"I think a point does come but when you are interested in good players you want to give it every opportunity to materialize - and I'll do that. I'll hope that things can continue to move forward," Moyes told the daily. "I can only tell you that Ed Woodward is working hard to make the deals happen and we're hoping some of them will fall into place shortly."
Manchester United have been linked to big players like Gareth Bale and Cristiano Ronaldo besides Cesc Fabregas but haven't struck any big deal so far. Instead, their key striker Wayne Rooney has been linked to some big clubs.