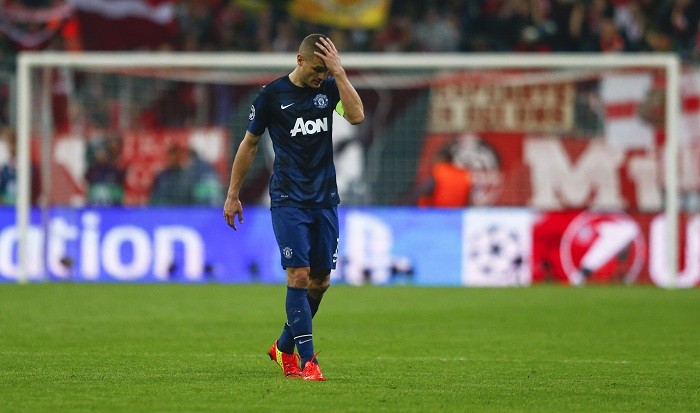 Just when reports suggested Nemanja Vidic was on his way back to Manchester United in a sensational return, the player's agent has nipped that transfer rumour firmly in the bud by insisting his client will remain at Inter Milan.
Vidic has struggled for form ever since making his way to Inter Milan, which led to suggestions that the former Manchester United skipper, who only left the English Premier League last summer, could make a return to Old Trafford in the January transfer window.
Indeed reports earlier this week suggested a deal had been agreed between Manchester United and Inter Milan after Louis Van Gaal held talks with the Serie A club.
However, it looks like those reports might have been a tad premature, with Vidic's agent rubbishing the exit rumours while insisting Vidic would honour his three-year contract with Inter Milan, which he signed when he left Manchester United on a free transfer.
"It is lies," Silvano Martina was quoted as saying by the Daily Express when asked about Vidic leaving Inter for Manchester United or indeed any other club.
"Nemanja has a three-year deal with Inter and will not leave Milan.
"There has been little respect shown towards my client. As soon as Inter lost a few games, people did not think twice to attack Vidic and point to him as the sole culprit.
"But, I repeat -- he will not leave Inter."
That will come as a bit of a blow for Manchester United manager Van Gaal, who despite insisting he does not need reinforcements at the back, would have welcomed someone of Vidic's experience with open arms.
While the improvement has been considerable for Manchester United in the last few games, particularly in terms of results, Van Gaal could use an authoritative centre-back, and Vidic is certainly that.
However, Manchester United do have plenty of money to burn, be that in the January transfer window or next summer, and with the likes of Mats Hummels, Gerard Pique and Raphael Varane in their sights, a big deal for a central defender cannot be entirely ruled out.
Much, of course, will depend on just who is available next month, and if it is worth paying a premium in January, instead of waiting for the summer and then making the move.