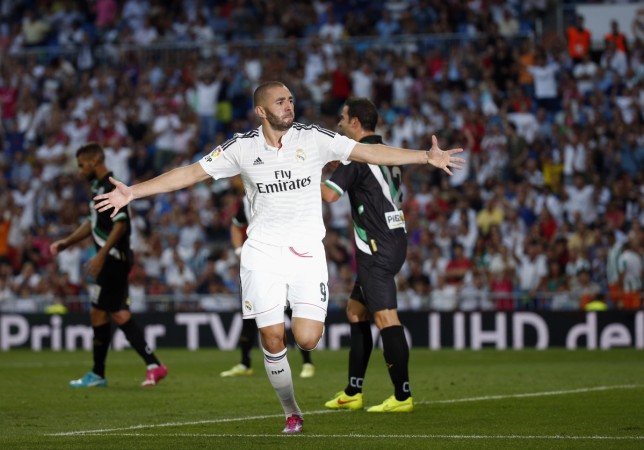 French striker Karim Benzema snubbed Manchester United for Real Madrid in 2009, revealed Lyon president Jean-Michel Aulas.
The 26-year-old, who was in demand following his impressive performances for Lyon in the 2007/08 and 2008/09 seasons, was reportedly approached by United in the summer of 2009.
However, the Frenchman eventually ended up joining Madrid that summer, along with the likes of Cristiano Ronaldo, Kaka and Xabi Alonso.
And Aulas has now revealed why Benzema chose Madrid over United.
"For a long time he wanted to play one day at Real Madrid and when operations began to fall into place, we did not object," Aulas told Canal+.
Although Madrid's offer for Benzema was much better than United's, the 65-year-old claims the striker was given an opportunity to join either of the clubs.
"The proposal was superior to Manchester United's but he was given the opportunity to go where he wanted."
And Aulas feels that Benzema, who has scored 116 goals in 246 appearances for Los Blancos, made the right choice in moving to the Bernebeu.
"I am very happy for him. This is the best striker in La Liga and one of the best in the world. The criticism he has received are part of the life of a professional football player, but we had to be above it all.
Meanwhile, Roma are reportedly looking to offer Kevin Strootman a wage hike so that he does not get tempted to join United in January.
Ever since Louis van Gaal's appointment as the new United boss, the Red Devils have been keen on getting Strootman's signature, despite Roma owner James Pallotta saying time and again that the Dutchman is not for sale.
Although the Serie A side are confident of keeping the 24-year-old at the club for some more time, they reportedly want to completely kill United's links to the Dutchman by offering him a pay rise, according to the Mirror.
Strootman, who has finally returned to training after a lengthy spell on the sidelines following a serious knee injury in March, is expected to get a significant pay rise on his current £25,000-a-week wages soon.