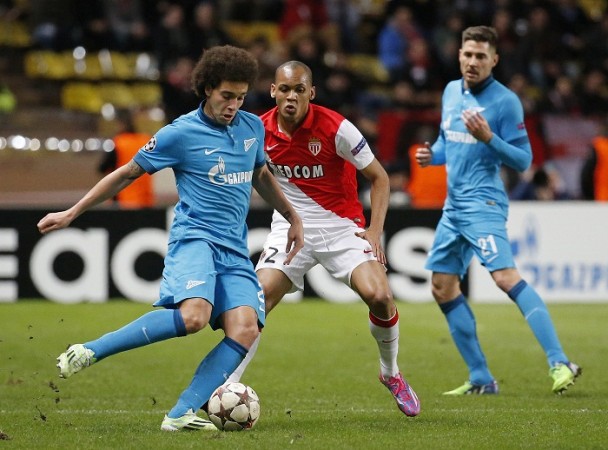 Belgium international midfielder Axel Witsel has opened up a possible move to Manchester United by expressing his admiration for the club and the English Premier League.
Manchester United are thought to be in the market for a technically-adept, tough tackling midfielder, with Kevin Strootman thought to be Louis Van Gaal's first choice.
However, with Roma unwilling to sell and Strootman himself saying he plans to stay in Rome until the end of the season, Van Gaal has been forced to look elsewhere if he does want to bring in a new midfielder.
That midfielder could come in the shape of Witsel, who currently plays for Russian side Zenit St. Petersburg, with the chances of a move only increasing after the 26-year-old said he wants to play in the Premier League.
"I have always liked Manchester United from when I was young," he told Bleacher Report.
"I want to play in one of the top clubs in Europe one day. It's true that I like the Premier League, because it is one of the best leagues in the world, for me, together with Germany and Spain.
"It is a very good league, it is a crazy league. A lot of my colleagues play there, but we will see.
"I am still young, only 26. We'll see in the future."
Belgians have certainly taken a liking to the Premier League of late, with Witsel already having a couple of compatriots of his in the Manchester United team in Marouane Fellaini and Adnan Januzaj.
While Januzaj took the Premier League by storm last season, Fellaini has had a pretty good second season with Manchester United and a central midfield combination of the latter and Witsel could work at Old Trafford.
Reports in Russia have suggested Zenit are open to selling most of their high-paid stars, with Witsel one among them.
If Zenit are willing to sanction a sale, then Manchester United could get the midfielder for a relatively reasonable price, while there is little doubt about the former Benfica man's talent.
Whether Manchester United really need a player of Witsel's mould is up for debate, though, and Van Gaal might want to wait until the end of the season before he has another crack at signing Strootman.