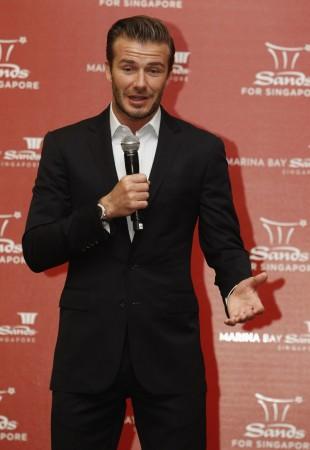 Former Manchester United and Real Madrid midfielder David Beckham has urged striker Wayne Rooney to stay at Old Trafford this summer. As a Manchester United fan, Beckham would be dissapointed if the England international leaves.
"I hope he stays because Wayne is such a talented player and I see him as a Manchester United player," Beckham told Sky Sports. Obviously that'll be his decision and his decision only. As a Man United fan, I want to see the best players at the club and I hope he stays."
Rooney's future has been the subject of incessant speculation with no clear outcome in sight. The player is not in the squad for United's Asia tour with the club reporting a hamstring injury as the reason behind his absence.
If Moyes were to lose Rooney this summer, he is sure to face serious questions over his capacity to manage a club of the stature of United. Beckham, while not clearly supporting the manager, asks for calm at this early stage.
"I'm sure he has had lot of mentoring, he is one of those managers that has always picked up the phone and spoken to Sir Alex," Beckham said. "It was always going to be difficult job for whoever succeeded Sir Alex because of what the manager has brought to Mancester Utd, what he has brought to the game."
Moyes' job is aided by United's squad being largely the same as last season.
"But the same players are there and I'm sure a few more will be added over the next few weeks," Beckham explained. "Being manager of Man Utd is a great job."
Beckham scored 85 goals in his 394 appearances for the Manchester club. While at United, he won six premier league titles, one European cup and two FA cups. The part-time model was part of a group of players including Ryan Giggs, Paul Scholes, Nicky Butt, Phil Neville and Gary Neville who were brought through the academy into the first-team. Giggs and Phil Neville are now part of Moyes' coaching staff.
"It's great about having a legacy and Manchester United have the biggest," Beckham said when asked about Giggs and Neville. "Ryan Giggs has been there so many years and all the players look up to him. Phil Neville has gone back, such a talented person and coach. Obviously Gary Neville was involved in the club and Nicky Butt is involved with the reserves. So many of the young players respect them and look up to them. It's important to have that."
The former Real Madrid player concluded by make a bold prediction for the league title.
"It's going to be interesting this year as there have been so many changes throughout the Premier League," he said. "Jose is back and that's exciting. It's going to be interesting, but I still think United will win the league. I'm a Manchester United fan!"