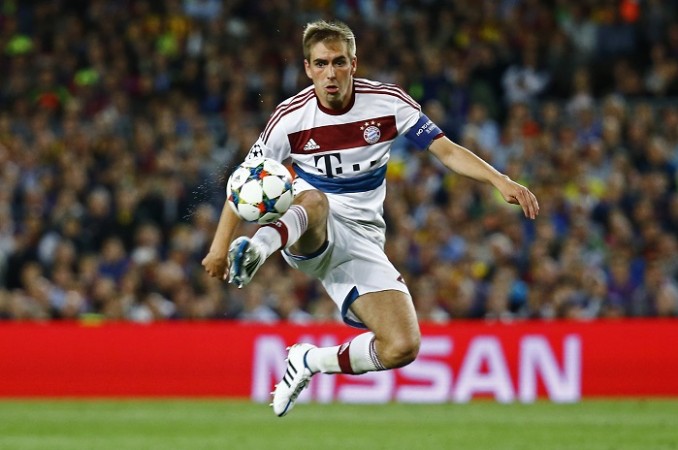 Bayern Munich star defender Philipp Lahm is reportedly keen on a transfer to Manchester United this summer, according to reports.
Lahm had said previously that he was approached by Manchester United earlier but refused the offer, preferring to stay at Bayern Munich.
Spanish giant Barcelona were also interested in striking a deal with this star right back, but then again, Lahm proved that he was loyal to his club and did not want to leave the German legaue.
United boss Louis Van Gaal is looking to bolster his squad by adding big names this summer. And for that, he has been given a huge kitty to spend on the best available players across the world. The Red Devils have been linked to several star players ahead of the summer transfer window. As of now, they have only managed to confirm the signing of Dutch international Memphis Depay.
Apparently, Van Gaal is an admirer of 31-year old Lahm and wants him in his squad to strengthen his defence line. If Lahm decides to leave Bayern Munich and joins United, it would be a huge boost for the Red Devils. Lahm can provide with sublime leadership qualities and the right wing will see a lot of overlapping, as he is one of the best in business.
The Bayern star defender admitted that earlier he had wanted to leave his club and was considering two options, Spain or England. However, he decided against it and stayed at Bayern Munich.
"Yes, as a player you always think about your options, and there was a time where Manchester United made an approach for me and Barcelona looked at me too, so I considered life in England or Spain. The Premier League was an interesting possibility. But in the end I decided to stay in Germany," Lahm told reporters.
Lahm has done incredibly well for Pep Guardiola's Bayern Munich in the last season and his club would be reluctant to sell him in the next transfer window. But United could lure him with an offer in the upcoming transfer window as the United boss is keen on making a move on this star defender from Germany.