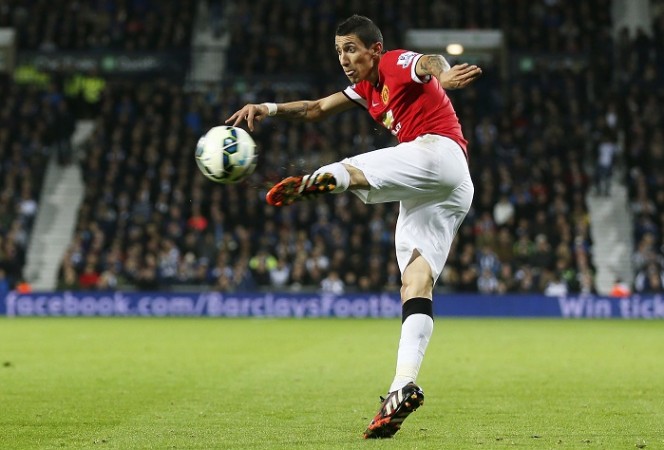 Manchester United star winger Angel Di Maria has said he will not leave the club in the upcoming summer transfer window despite his scratchy start in his debut season with the Red Devils.
The Argentine winger joined United from Real Madrid last summer at a record breaking fee of £59.7 million, but has failed to impress the selectors and fans across the world.
He had a promising start at the Old Trafford last year but struggled in the second half of the Barclays Premier League. He has managed to score only three goals after featuring in 27 matches.
Despite the rumours that United will cut their losses and sell this Argentine winger to Paris Saint-Germain (PSG) in the upcoming summer transfer window, the player has insisted that he will be staying with the club and look to come back strongly in the next season.
"I think I did a good job, though. I finished second in assists and I scored some goals, so I definitely think I did well in my first season at Manchester United," said Di Maria in an interview with The Sun.
Currently, Di Maria is busy preparing for the Copa America 2015 with the Argentina squad after being named for the Cup.
"I have just finished my first season playing for Manchester United. Now I will play the Copa America and then I will move back to Manchester for next season and do my best there," Di Maria said.
Di Maria spent most of the time in the bench during the second half of the league (2014-2015) as he could not impress United boss Louis Van Gaal. But he finished second on the list of the number of assists in the last season. He is arguably one of the promising stars at the club and would look to prove his worth in the upcoming season.
"It was a hard season for me. I think it was hard because it was another country and another league, and this league is harder than the Spanish one. So, I couldn't adapt myself as I wanted to. La Liga and the Premier League are completely different. The Premier League is physically stronger.
"It was not easy at all. I ended playing few minutes. Under Van Gaal I played in lots of positions until he decided to bench me," Di Maria added.