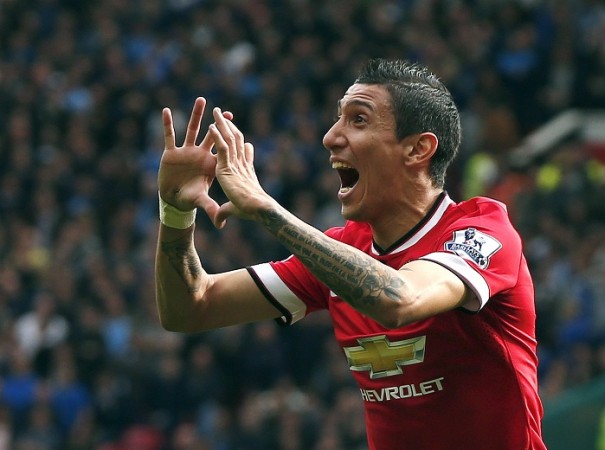 Manchester United may have to be content with lesser money from French giants PSG for Angel Di Maria, but the Red Devils are not willing to let the Argentine go scot-free for not reporting in the club's preseason tour of the US.
According to British newspaper, the Daily Express, United will come down heavily on the Argentine dribbler Di Maria by levying a fine of £360,000 (two weeks' wages) on him for not appearing in the club's preseason tour this summer.
Di Maria was slated to join the team at their Seattle base on 25 July, but the ex-Real Madrid star missed the flight to the US on the day and this was confirmed by United manager Louis van Gaal.
The Dutchman even went further just a day ago to disappointedly say that he does not know the whereabouts of their player this summer.
The report from the British daily has also stated that the Argentina international is finally set for Parc des Princes for £44m and the move is expected to be completed once he arrives in Paris from Argentina for the medical. The signing will take place in the next 48 hours.
United had paid Di Maria a whopping £59.7m last summer to acquire him from Real Madrid, making him the most expensive purchase in British football history.
The current fee put forward by PSG – according to the report – is £15m less than what the Old Trafford side paid him last summer.
But it seems Van Gaal's side are willing to vent their anger by punishing the Argentine for failing to report for the preseason without any official reason.
Former Chelsea defender and Di Maria's ex-teammate at Porto, David Luiz, is welcoming Di Maria's decision to join the French giants.
"He is a great friend, a great player. Every single team he plays in, he makes the difference, helping on the defensive side also. He knows how to assist, to score goals," Luiz was quoted as saying.
"I played with him in Benfica. It's great to see how much he has improved, how he has become a fantastic player. It would be a pleasure to play with him again."
The attention now shifts to Barcelona's Pedro Rodriguez to fill in the void being left by Di Maria at United and the Old Trafford side are reportedly zeroing in on a £22m bid for the Barca forward.
Di Maria's compatriot Nicolas Gaitan is another name doing the rounds.