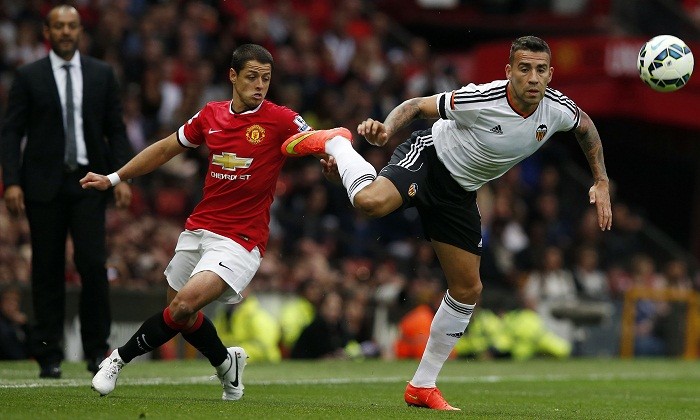 Manchester United could be moving closer to sealing their number one priority signing after a swap deal being mooted looked like turning into reality with one of the player's agents admitting a transfer was possible.
Louis Van Gaal is yet to make signings of his own ever since taking over at Old Trafford, and the Dutchman is thought to be keen on bringing in a strong midfielder to the side.
Arturo Vidal is the name that has been linked time and again during this summer transfer window, with a will-he, won't-he feeling permeating throughout Old Trafford over the last few months.
Reports coming out of Italy have suggested Juventus are open to selling Vidal as long as they recoup the right amount of transfer fee, with the Chile international midfielder also reportedly ready to try his hand in the English Premier League.
While United are expected to bring in a few fresh faces before the close of the summer transfer window – Angel Di Maria, Marcos Rojo and Daley Blind have all been heavily linked – Van Gaal is also expected to sell a few players to make way for new signings.
One of those players expected to leave Manchester United is Javier Hernandez, with the Mexico international apparently deemed to be surplus to requirements.
Hernandez has caught the attention of several Premier League clubs, including Southampton, but Juventus are reportedly keen on the striker.
Mexico national team coach Miguel Herrera recently said Hernandez should leave Manchester United and join Juventus.
"I think Hernandez needs to leave," Herrera, who was popular for his over-the-top expressions and celebrations during the World Cup in Brazil, told ESPN.
"I think Juventus would be a good option for him. When a coach does not want you, when you have your best experience, your best moment with them, and now the coach that wanted you is no longer there, it's time to move.
"I think there are a lot of opportunities. They are not bad opportunities. If he goes to Juventus that would be an extraordinary team. Without a doubt, it would be a nice change for him. Hopefully he'll see more minutes."
With Juventus' interest in Hernandez reportedly serious, a swap deal involving Vidal moving to Manchester United and the Mexican and cash going the other way has been explored. Hernandez's agent, when directly asked about a possible swap deal, did not deny the possibility.
"For now I cannot comment on the situation," the Manchester United striker's agent Eduardo Hernandez told the media in South America.
"I have no news at the moment on a swap deal, I haven't spoken to anyone in England, but there will be news soon."
Bringing in Vidal will certainly give everyone at Manchester United a big lift, with Hernandez going the other way also bringing down the transfer fee to a more manageable level.
Bookmakers suspended betting after receiving several bets on a transfer involving Vidal signing for Manchester United, with €45 million and two players, including Hernandez, going to Juventus, and thus only increasing the chances of the drawn out transfer finally being completed.