UEFA Europa League winners Manchester United have overtaken La Liga champions Real Madrid as the most valuable football club in Europe in a report released by auditors KPMG. The Red Devils have been valued at around €3.004 billion and have become the first European football club to cross the €3 billion mark with Real Madrid dropping to second and Barcelona finishing third.
KPMG have devised an algorithm which takes in not only a club's revenue, but is a combination of five three factors -- profitability, popularity, sporting potential, broadcasting rights and stadium ownership. There are six Premier League teams in the top 10 and broadcasting rights are a key part of KPMG's algorithm.
Also read: Is Georgina Rodriguez pregnant with Cristiano Ronaldo's child?
The Premier League's worldwide broadcasting rights are worth €9.5 billion split among the 20 teams and this is why Premier League teams have dominated the list. KPMG's Global Head of Sports Andrea Sartori also spoke about the importance of broadcasting rights.
"The aggregate value of Europe's 32 leading football clubs suggests that the overall value of football, as an industry, has grown," Goal.com quoted Sartori as saying.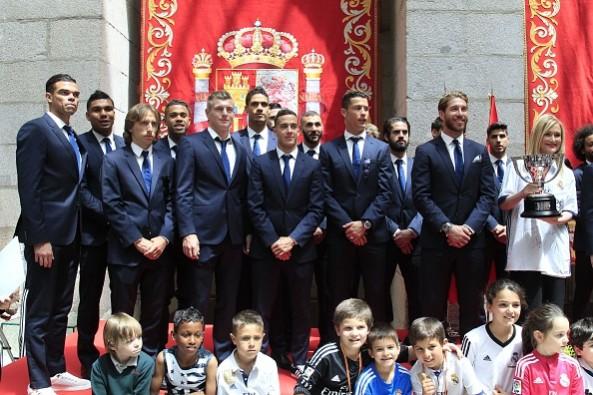 "While this is partially explained by football's broadcasting boom, the internationalisation of the clubs' commercial operations, their investment into privately-owned and modern facilities, and overall more sustainable management practices, are also key reasons for this growth."
"In terms of media rights value, the English Premier League sits comfortably at the top of European leagues, although other major leagues have outlined well-defined strategies to compete for the attention of global fans," Sartori added.
In May, Manchester United had announced a full-year revenue of between £560 million and £570 million and it is expected that their profits could this time do better than their current record of £191.9 million.
The Red Devils have won three titles under Jose Mourinho is his first season and have 26 global sponsorship deals, including with kit manufacturer Adidas, shirt sponsor Chevrolet, 20th Century Fox and Uber, as well as 10 regional sponsorship deals and 28 other media and financial partners.
Premier League runner-ups Tottenham Hotspur and Serie A champions Juventus were the new entries to this elite group, with Tottenham ousting French club PSG from 10th position.
Here is a look at the top 15 most valuable clubs in Europe.
1. Manchester United (€3.004bn)
2. Real Madrid (€2.895bn)
3. Barcelona (€2.688bn)
4. Bayern Munich (€2.367bn)
5. Manchester City (€1.909bn)
6. Arsenal (€1.882bn)
7. Chelsea (€1.524bn)
8. Liverpool (€1.260bn)
9. Juventus (€1.158bn)
10. Tottenham Hotspur (€978m)
11. Paris Saint-Germain (€948m)
12. Borussia Dortmund (€917m)
13. Atletico Madrid (€771m)
14. Schalke (€663m)
15. AC Milan (€504m)