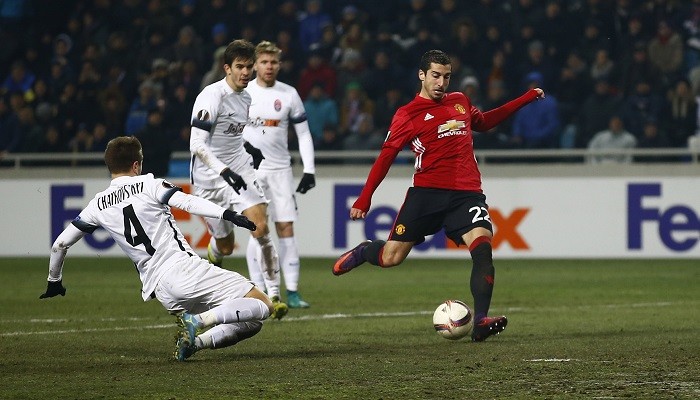 Henrikh Mkhitaryan, slowly but surely, is showing why everyone had such high expectations of him when he signed for Manchester United. The Armenian scored his first goal in a Manchester United shirt, a brilliant individual strike, to send his new club to the last 32 of the Europa League.
Having impressed on the last Europa League game as well and done decently in the Premier League match against Everton, Mkhitaryan continued his resurgence, having initially found it difficult to get any kind of quality game time under Jose Mourinho, with another outstanding performance in Europe.
With Manchester United needing at least a point to stay in Europe, Mkhitaryan opened the scoring in the 48th minute courtesy a wonderful strike that showed his pace, dribbling skills, finesse and poise in front of goal.
Mourinho, who took his time to get Mkhitaryan, signed from Borussia Dortmund in the summer, into the Manchester United fold, was all praise for the playmaker. "It was a strong mentality," Mourinho said. "He was determined to fight against his difficult adaptation.
"He worked hard physically and tactically – the talent was there, we knew that when we bought him. Now he's playing good – in the Premier League, Europa League and EFL Cup, and now the goal means a little more happiness for him, so I'm very pleased."
Also pleased was Zlatan Ibrahimovic, who isn't someone to get impressed that easily. The Manchester United striker, who scored the second goal of the game in the 2-0 win, though was pretty wowed by Mkhitaryan's stunning effort.
"The first goal was magnificent," Ibrahimovic said. "Henrikh had speed and control all the way, and the timing to put it through the defender's legs... it was beautiful. He killed the game off by scoring the goal and did a great job.
"I'm very happy for him because he's a quality player and I hope he continues. I know he will. I'm super happy for him."
Ibrahimovic was also glad to get his goal, scored in the 88th minute, not only to add to his bulging tally for the season but also to have something to warm him up on a bitterly cold evening.
"It was not an easy game," Ibrahimovic added. "The pitch wasn't the best and it was very cold, but it's not an excuse. We still did our job and worked very hard. In the end, we got the win that we needed.
"On my way towards goal, I was thinking that I needed to score the goal to get warm. I had a lot of time and I was focusing on controlling the ball because I didn't want it to bounce, because the pitch was bad. When I came close enough, I just wanted to put it in."