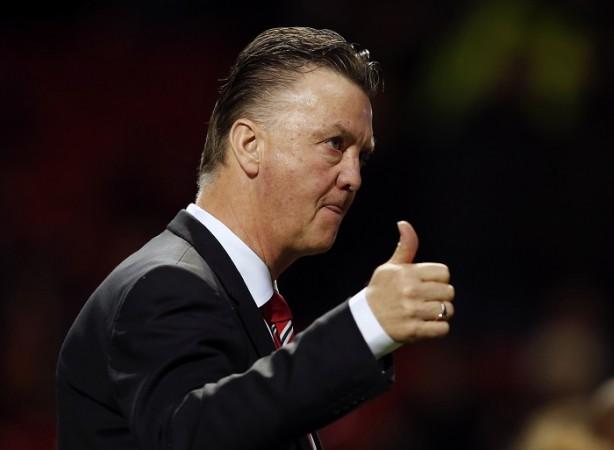 Manchester United boss Louis van Gaal hailed his side's sprit after the Red Devils were able to salvage a late 1-1 draw against West Ham United at Upton Park on Sunday.
Although the Red Devils were trailing 1-0 following Cheikhou Kouyate's 49th-minute strike, they kept on searching for an equaliser, and their efforts were eventually rewarded as Daley Blind found the net in the second minute of added time.
And van Gaal, despite admitting that United were poor in the first half, says that he is happy with his side's second half display at Upton Park.
"I think we played very badly in the first half and we showed a lot of spirit in the second half, especially after the goal," the Dutchman told the club's official website.
"We gave that goal away I think. Then we played football but you have to do it from the first minute. I have to say what a spirit my team showed after falling 1-0 behind. I have thanked my players for that."
The former Barcelona boss went on to point the mistakes that his side made in the first half.
"When we had the ball, we didn't play it along the floor but also when we lost the ball, then you have to win the first and the second balls much better than we did in the first half," he added.
Van Gaal admits the introduction of Marouane Fellaini in the 72nd minute swung the pendulum in his side's favour as the Belgian, who assisted Blind's equaliser, helped the Red Devils create more chances using his height and physical strength.
"Because of Fellaini, we have created a lot of chances because I think we had the three open chances before the goal," said the Dutchman. "Normally, you can win this game also, in spite of the bad first half. But OK, I am pleased that we have a draw here."
Finally, the Dutchman does not believe that Luke Shaw deserved a second yellw for his foul on Stewart Downing in the final stages of the game.
"It was in front of me. The player [Downing] was jumping, but I think it was tactically not so smart of Shaw," he added. "I think the referee could give him a yellow card, but he doesn't touch him."