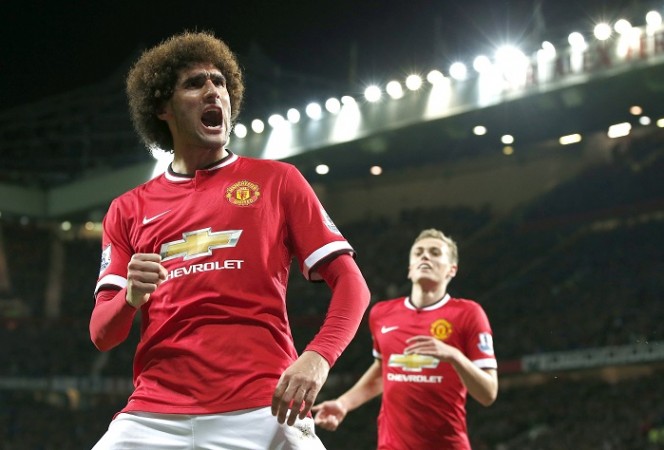 Manchester United manager Louis van Gaal showered praises on Marouane Fellaini after the Belgian helped the Red Devils make a fighting comeback and register a 3-1 win against Preston North End in fifth round of the FA Cup.
After United went down to Scott Laird's strike right after the break, van Gaal brought in Ashley Young in place of Radamel Falcao and pushed Fellaini forward alongside Wayne Rooney.
This alteration proved to be very effective as Ander Herrera immediately equalised in the 64th minute before Fellaini added another in the 72nd minute. Finally, Rooney sealed the game by converting from a penalty in the 88th minute.
And van Gaal feels that the former Everton midfielder played a big hand in United's comeback against Preston.
"I have used Fellaini a lot of times already - more than ever and he scores more than ever," van Gaal told Sky Sports. "He is a player that when we cannot beat the pressure with quality, we can always beat the pressure. That is a quality."
"Now I have played him for the first time in his (preferred) position but we have a lot of players who can play there."
The former Barcelona boss feels that the whole team played well due to him changing the formation after conceding the goal.
"I changed the shape," Van Gaal added. "That was I think why we made the goals. I think the first goal was also a little lucky, the second goal was a training goal, fantastic I think, and the third goal was a penalty and then the match was done."
"The whole team did it well because they believe also that we could do it with this shape. As trainer-coach or a staff, you can change the system but your players have to believe in it and perform it and that is not so easy and they do it and not for the first time. That is fantastic."
Meanwhile, Fellaini also praised van Gaal's decision to bring in Young instead of Falcao, who failed to get a single shot on target.
"We changed the game," Fellaini told Sky Sports. "We know the quality of Ashley Young; he can cross and it was an important substitution."