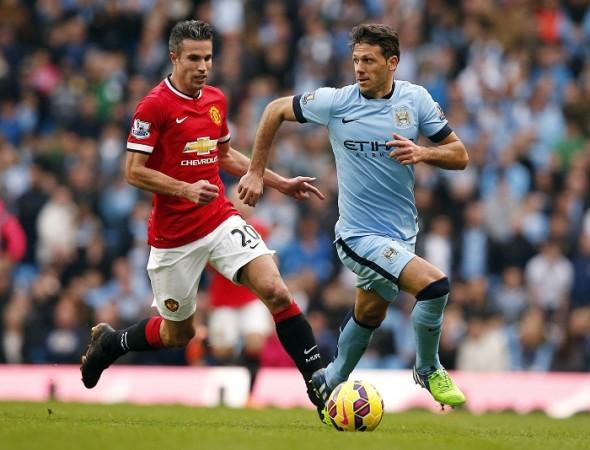 Robin Van Persie was expected to put his struggles from last season behind him once Manchester United appointed his Netherlands coach Louis Van Gaal as manager. However, things have not started so smoothly, with the striker still struggling in front of goal, even if he scored that dramatic equaliser against Chelsea.
Van Persie, who was pivotal in helping Manchester United to the English Premier League title in Sir Alex Ferguson's final season, has not quite hit those heights yet since, and even Van Gaal has not been able to bring the best out of the former Arsenal player.
Gary Neville, a Manchester United man through and through, acknowledged the problems being faced by Van Persie.
"There's pressure on Van Persie, people want more from him," he told Sky Sports on Monday Night Football.
"He's got to do better in long situations and needs to make better runs."
However, making good runs alone will not help Van Persie, who only has three goals in the Premier League this season, to find his goalscoring mojo. The Dutchman also needs his teammates to find those through balls, weighted perfectly for him to use that wonderful left-foot of his – or indeed his head as he so famously did in the World Cup in Brazil.
As far as Neville is concerned, that understanding is not quite there between Van Persie and the players behind him.
"His teammates aren't finding him as much as [Paul] Scholes and [Michael] Carrick were two years ago," added the former Manchester United right-back.
"I called him a burglar before -- he lives off back of centre-backs. The type of pass he wants is into space.
"In defence of Van Persie I don't think his teammates are in sync as they were two years ago. Maybe Carrick coming back will help him."
Whatever the problem might be, Manchester United need to sort it out as quickly as possible. While scoring goals has not been that much of a problem for Van Gaal – the real issues lies at the other end, as Chris Smalling showed so clearly in the 1-0 loss to Manchester City on Sunday -- the manager will certainly be thankful if his compatriot finds that goalscoring touch, which made him one of the most lethal strikers in Europe not too long ago, as soon as possible.
Manchester United, who have made their worst start to the season since 1986, are currently in tenth place, 13 points behind leaders Chelsea.