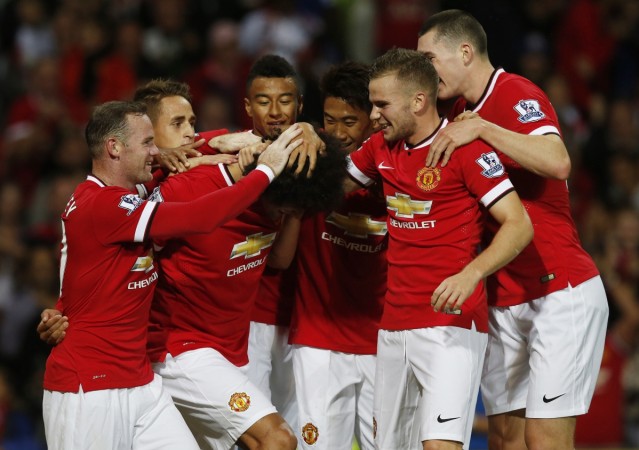 Manchester United executive vice-chairman Ed Woodward says the Red Devils are aiming for a third-place finish in the Premier League this season.
After enjoying a successful campaign in 2012/13, where they won the title with an 11-point lead, United plummeted under David Moyes last season, as they ended up seventh. And although they still managed to collect a record revenue of £433.2 million this season, their profits dropped by 84 percent from £146 million (in 2012/13 season) to £23.9m (2013/14 season).
However, instead of aiming for an instant comeback to the top this season under new boss Louis van Gaal, Woodward says the club has set a realistic target of qualifying for the Champions League next season.
"We assume third [place] in our budgets," Woodward told Sky Sports News.
Although United have spent in excess of £150m on transfers for players including Angel di Maria, Ramadel Falcao, Ander Herrera, Luke Shaw, Daley Blind and Marcos Rojo, Woodward says more funds will be made available if van Gaal decides to sign more players in January.
"We will continue to monitor, together with Louis, his view of the squad and continue to make assessments as to which areas of the squad we want to strengthen and, by extension, which areas we would look to sell.
"We feel like we've got to a level now where we've got a stable number back in the squad. We guided that usually three in, three out is par for the course every year and those typically are in the summer.
"But as we've demonstrated, if there is a willingness from the manager to do something, we will engage with him and see if there's something we can deliver. If January is the opportunity then you have to take it when it comes like we did last year with Juan Mata."
United did very well under van Gaal in preseason, winning all their fixtures against the likes of Real Madrid, Liverpool, Roma and Valencia.
However, they have made a poor start to the new season, failing to register a win so far.
However, Woodward remains confident that van Gaal is the right man for the job.
"The 2013/14 season was a very challenging and disappointing one. But under Louis [van Gaal] there is a real feeling at the training ground that we are at the start of something special. I'm confident with Louis as our manager, with a clear philosophy and a reinvigorated squad; we will get back to challenging for the title and trophies.
"His track record for delivering top level teams speaks for itself. We've had an excellent summer having signed Angel Di Maria, Daley Blind, Luke Shaw, Ander Herrera, Marcos Rojo and Radamel Falcao on a one-year loan."