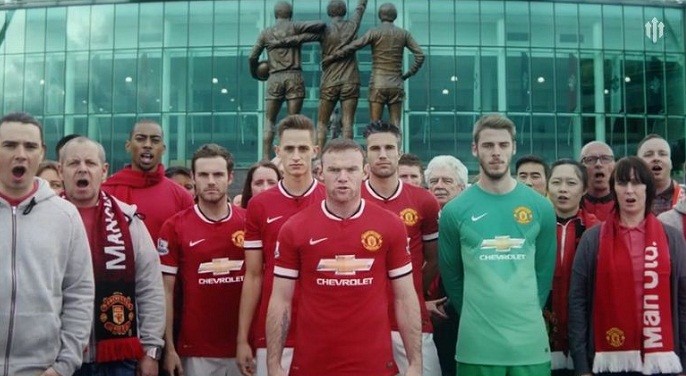 Manchester United have signed a 10-year deal worth a whooping £750 million with German sportswear giants Adidas, after failing to agree on a new contract with current kit sponsors Nike.
American company Nike, who had been United's kit sponsors for the last 12 years, recently ended their partnership with the club, saying that the Red Devils were demanding too much money.
Adidas will now be the new kit sponsor for United, after the club's contract with Nike ends after the completion of the 2014/15 season.
"Manchester United plc has reached a 10-year agreement with adidas for a global technical sponsorship and dual branded licensing deal for a minimum guarantee of £750million, subject to certain adjustments, beginning with the 2015/2016 campaign," read a statement on the club's official website.
"For the 2014/2015 season, Nike will continue in its role of technical sponsor and trademark licensee," the statement added.
Nike had earlier released an official statement, confirming that they had ended the partnership with United.
"Manchester United is a great club with passionate fans. We are proud to have partnered with them for the last 12 years and will continue to sponsor the club until the end of the 2014/15 season," the statement read.
"Any partnership with a club or federation has to be mutually beneficial and the terms that were on offer for a renewed contract did not represent good value for Nike's shareholders. We look forward to a successful final season with the club."
Although Adidas will be offering the Reds Devils more than double the amount that Nike had been paying, the German company's chief executive Herbert Hainer is certain that this deal will benefit both parties.
"We expect total sales to reach £1.5bn during the duration of our partnership," Hainer said.
The mammoth deal of £75 million per year easily surpasses the record held by the France national football team, who are getting £36 million a year from Nike.
Meanwhile, Synergy CEO Tim Crow feels that Adidas is taking a big risk by investing so much money on United.
"United is a trophy asset worldwide. This is an important deal because adidas are battling Nike and they can use this for better distribution deals," Crow told Sky News.
"But Nike have taken a calculated risk. They've been there for 12 years and they know the numbers. United have a huge fan base worldwide who won't desert them over night. One season out of the European limelight won't matter but it was certainly a factor for Nike. This is a leap of faith for adidas."