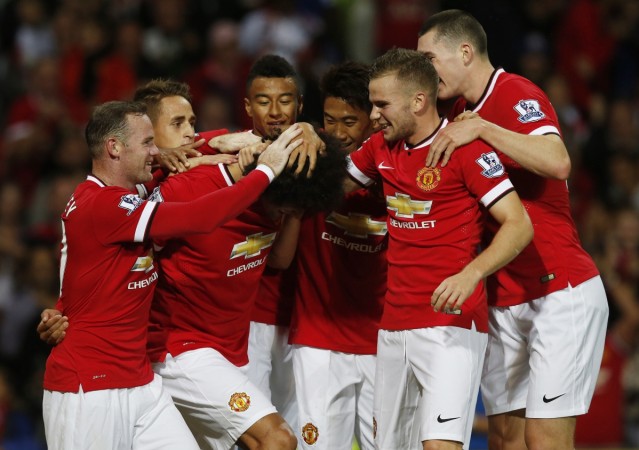 Manchester United are reportedly set to announce a record annual revenue of around £420 million for the 2013/14 campaign despite the drop in their form last season.
The annual financial statements of all the clubs are going to be unveiled later on Wednesday, and according to a prospectus published by the New York Stock exchange, United's total revenue is predicted to be somewhere between £429m-£434m (18-19 percent higher than last year's revenue of £363.2 million).
However, United's predicted profit of £23-25 million this year is far less than the £146.4 million profit recorded at the end of the 2012/13 season.
This fall in profit is believed to be due to a one-off tax credit, rather than United's poor performances under David Moyes last season.
A fall in revenue due to United failing to qualify for the Champions League will only be reflected in next season's financial report.
United's commercial revenue is expected to increase by 25 percent to around £190 million due to their preseason tours and lucrative sponsorship deals.
However, their operating costs are also expected to increase by 20 percent to £373 million due to their expenditure on increased wages and the transfers of Marouane Fellaini and Juan Mata last season.
The Red Devils' debt has been reduced to £350 million, with the cost of repaying the debt a similar level to the profits.
"We currently estimate that our net finance costs will be approximately £26.5 million to £28.5 million," read a statement in the prospectus published by the New York Stock Market.
According to the prospectus, United earned around £5 million from the worldwide sale of the club's merchandise - including 2 million replica jerseys - last season.
"The Manchester United jersey and training wear are completely redesigned for each season. The annual launch of the new jersey is always a much-anticipated day for our global community of followers," said the prospectus.
"The result is a robust wholesale apparel business that sold approximately five million items of Manchester United branded licensed products, including approximately two million replica jerseys, around the world in the last year."
Although United continue to be a financial force in England and Europe, they will need to do well in the Premier League and get back to the Champions League if they want further improve the figures next year.