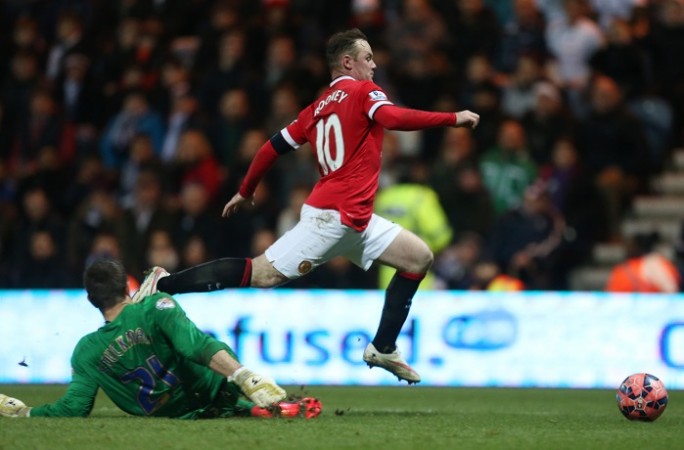 Preston North End goalkeeper Thorsten Stuckmann claims that Wayne Rooney admitted to diving and apologised to him after Manchester United's 3-1 win over the League One side in the fifth round of the FA Cup on Monday.
The Red Devils were awarded a penalty after Rooney went down in the box, following Stuckmann's challenge towards the end of the game.
However, the penalty, which was converted by Rooney in the 81st minute, drew a lot of controversy after it was revealed in replays that the England striker had gone down despite the Preston goalkeeper making no contact with him.
Despite many people accusing the United captain for "conning" the referee, England manager Roy Hodgson defended Rooney, insisting that the striker had taken an "evasive action" due to the goalkeeper going into the challenge with "both feet."
However, Stuckmann says that there was no penalty, insisting that Rooney admitted to diving and apologised to him after the match.
"After the game Rooney told me: 'Sorry, it was my chance to get a penalty. I had to use that,'" Stuckmann told the Sun.
Meanwhile, Ashley Young feels that United's unbreakable team spirit will help them win the FA Cup and make a top four finish in the Premier League this season.
"The club has always had great spirit – I've seen that since I've been here. All the boys in the dressing room are fighting for each other and when you have that off the pitch you take it on to the pitch," he told the Red Devils official website.
"It's one of the qualities we have as a team. It's a team sport and we always go out and play as a team."
Although Young admits the Red Devils are very keen to end their nine years FA Cup drought this season, he says that United are taking one game at a time, insisting that they are "fully focused" on their quarter-final clash against Arsenal on 7 March.
"Of course we want to get back to winning ways and win this competition," added the former Aston Villa winger. "We haven't won it for a few years. But what's important for us now is to get to the next round. We're not thinking too far ahead. There are a lot of games coming up before Arsenal and we need to stay fully focused and concentrate on them."