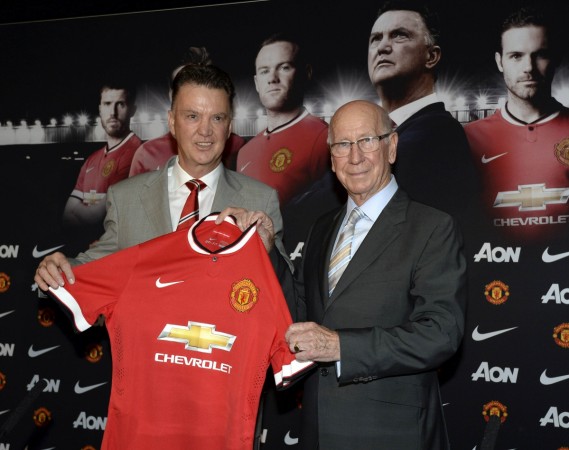 Newly appointed Manchester United manager Louis van Gaal said he is relishing the "difficult challenge" of getting the Red Devils back to the top of the English Premier League
The 62-year-old, who guided Netherlands to a third-place finish in the 2014 World Cup, will be under a lot of pressure to turn things around at Old Trafford following United's disappointing campaign under former boss David Moyes last season.
Yet, the former Bayern Munich boss is keen to take up the challenge, saying he will try his level best to restore United's pride and glory in his debut season.
"I will do my utmost in my first season – that's what I can give. This is the biggest club in the world. Within two days I know already how important Manchester United is, but also how important the supporters are," van Gaal told reporters in his first press conference as United boss.
"It's the biggest club known worldwide, but in sport you are never the biggest club because every season you have to prove that and last season we were seventh."
Despite admitting that his task will not be a walk in the park, van Gaal is confident that he will be able turn things around due to his experience.
"I have to work, I have to prepare a team and adapt to this big club," the Dutchman said. "It will not be easy but I will do my best. When you see my career, what I have won, that is as much as I can say. The future shall show if I can do that again."
However, van Gaal admits that he will not be able to predict where Manchester United will stand at the end of the season.
"I cannot give predictions because you never know," he said. "No one predicted the Dutch team would come so far at the World Cup. Nobody predicted German would beat Brazil 7-1, or that the Dutch would beat them 3-0."
Finally, van Gaal says that he is hoping to live up to the expectations of the Red Devils' hierarchy as well as the fans.
"The owners and the CEO have a lot of confidence in me. It was because of this that they have come to me, and I explained my philosophy which made them excited," he added.
"There is a lot of expectation both from them but also the fans, who are very important, but also because of that this is a great challenge, and that is why I chose this club. I hope I shall fulfil the expectation, but it shall be difficult."