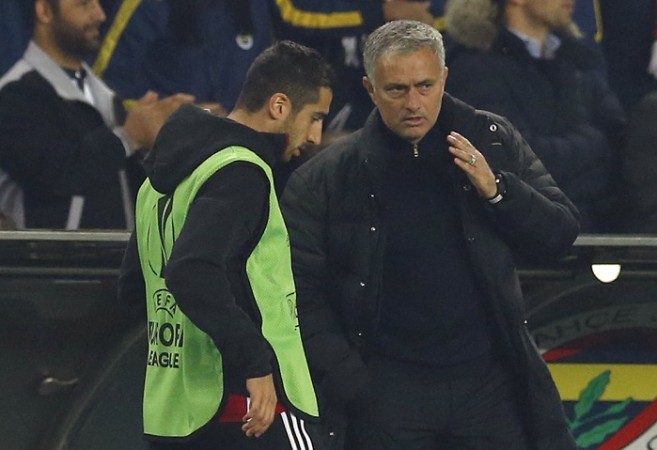 Manchester United manager Jose Mourinho shows no signs of gaining confidence in his summer signing Henrikh Mkhitaryan, with the Portuguese saying the former Borussia Dortmund playmaker was not in the matchday squad for the Premier League draw against Arsenal on Saturday because he was not sure if the Armenian could handle the pressure of such a high-profile fixture.
Since signing for Manchester United, Mkhitaryan has only played six games for his new club, partly because of injuries, but also due to the fact that the manager does not seem to trust his player yet. Mkhitaryan has only had one start in the Premier League, with Mourinho still unconvinced by the player, who was named the Bundesliga Player of the Year for his terrific season last campaign.
The manager believes Mkhitaryan is better suited to playing in the Europa League at the moment rather than be tested to handle the pressure of playing in the Premier League.
"I told him [on Saturday] that he is going to be involved in the game against Feyenoord," Mourinho said. "He is trying. Obviously he is not happy but he is transforming his frustration in a good way, which is to close the mouth, work hard and try to adapt.
"I told him 'this was not the game for you' because I don't think he needs 10 or 20 minutes from the bench. I said 'I think you need a good game and you need to either start or, if not, to come for the second half'.
"He needs less pressure and better conditions for him to express his qualities."
While it is still too early to make a judgement on the signing and Mkhitaryan's suitability under Mourinho, it does seem like the manager is not quite sold on the Armenian's capabilities. The talent is undoubted, but it will be up to the 27-year-old to convince he is what Manchester United need in the playmaking position, to convert chances into goals, something the club have struggled with this season.
Manchester United face Feyenoord in a crucial Europa League match at Old Trafford, with the Premier League side looking for revenge having been beaten by the Dutch team in the earlier fixture.