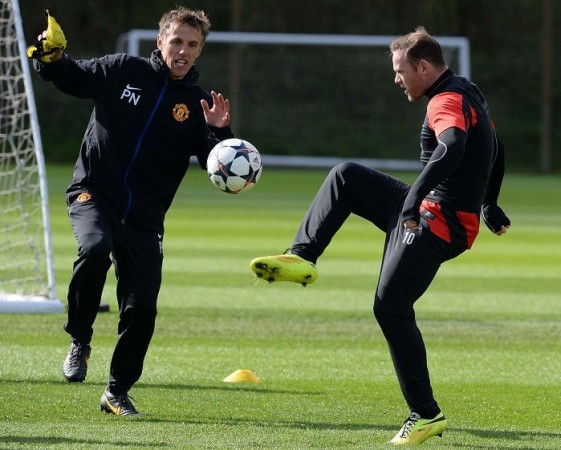 Former Manchester United stars Phil Neville and Nicky Butt, who assisted Ryan Giggs at Old Trafford last season following the sacking of David Moyes, are expected to learn about their fates in the Premier League club by next week.
The pair is not sure whether they will be staying at Man United under newly-appointed manager Louis van Gaal and what plans the club have for them. Neville, who ended his playing career at Everton, is hopeful that he will stay with United in some capacity.
"I am speaking to the chief executive in the next five days and it will all be sorted," Neville said. "It might be the case that I might have to go and pursue other areas for next season. That is football."
"But I think I will always be involved in some capacity at Man United," he added. "Once you are a part of Manchester United you are part of it for life. I came back into football 12 months because David Moyes asked me to come back."
"I probably wouldn't have come into coaching if it hadn't been for the fact I was working for David Moyes at Manchester United. The opportunity was too good to turn down. I thoroughly enjoyed my 12 months in coaching. It is something I really want to do and it will be something I do in the future."
Butt before joining Giggs at Old Trafford was working with Warren Joyce with United's under-21 team but the role is not available this season as the senior squad has failed to make it to the Champions League.
The 39-year-old said he wants to be a part of Man United but it depends on what new-manager Van Gaal has in mind. The Dutchman is currently on national duty with the Dutch squad, which is set to play Brazil for a third-place playoff on Saturday.
"It is a bit unstable at the minute because the manager has not been with us," Butt said. "He has had bigger things on his mind with Holland but hopefully over the next couple of weeks he will be in training and we will sit down and discuss what role, if any, I have got."
"If I have, then great," he added. "If not, I've had a fantastic time. I am back in training now but if there is not a job for me there is no point staying. They want me there, and I want to be there but it has got to be for a purpose. The only one that can make that decision is obviously the manager and the owners."
Meanwhile, United's assistant manager Giggs is happy with the pre-season preparation of the team and said that the coaching staff is working on the Blue Print provided by the new coach.
"Everyone's excited. We had a disappointing season last season and everyone's keen to get us back to where we belong and that's the top," Giggs explained.
"Everything's been planned off Louis," he added. "Albert and Marcel know how he works so the blueprint has been prepared by Louis and we're just following his plans. I think we'll find out today when he arrives. It will be sometime early to middle of next week."