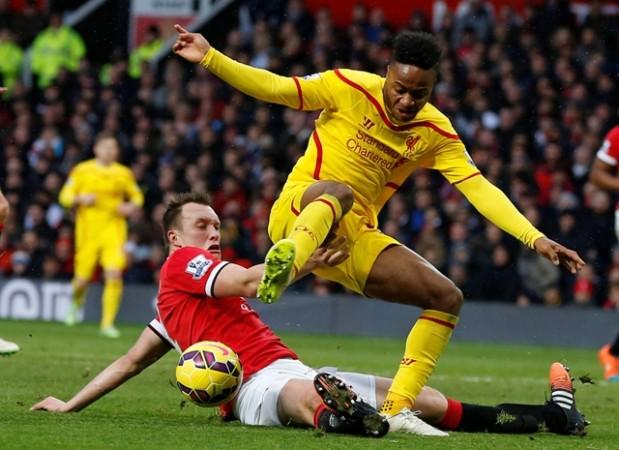 Extending his stay at Old Trafford, English defender Phil Jones has signed a new contract that will see him ply trade with Manchester United until at least June 2019. The player also has an option to extend his stay for a further year.
It was reported last week that the versatile 23-year-old defensive rock was mooted to receive a fresh contract with the Red Devils similar to his teammate Chris Smalling's contract extension at the club in April this year.
While the fee involved has not been disclosed, it is believed that the former Blackburn player will pocket around £80,000 a week.
Moments after signing on the dotted line for Louis van Gaal's side, Jones said that he is looking forward to elongating his career at Old Trafford and develop further as a player.
"I am delighted to have signed a new deal. I have thoroughly enjoyed my time here so far and am looking forward to continuing my development as a player," Jones told his club's official site.
"This a great club to be part of and I cannot wait to start the new campaign. I would like to thank the manager, coaching staff and fans for their continued support."
The defender arrived at United in the summer of 2011 from Blackburn Rovers for an amount in the region of £16.5 million, and was awarded a deal for five years. Over the course of four seasons, Jones has gone on to make a total of 128 appearances for Manchester United, under the tutelage of Sir Alex Ferguson, David Moyes, Ryan Giggs and Louis van Gaal.
He has also five goals to his name, as well as nine assists.
Jones clocked up 22 league appearances for the Red Devils last season under van Gaal. The number was relatively lesser compared to his debut seaons at the club under Ferguson, when he made 29 Premier League appearances.
However, heaping praise on Jones, the Dutch gaffer has said that the young defender is constantly improving his play, and the ex-Bayern Munich manager is looking forward to make use of his versatility more in the upcoming season.
"We are delighted that Phil has signed a new contract. He is a talented footballer with great versatility and can play in a number of positions," the 63-year-old said.
"Phil is a relatively young defender who is developing all the time. He missed some of last season due to injury; however, I was impressed by his professionalism and attitude during those periods."
United start their league campaign in the 2015-16 season against Tottenham Hotspur in a home game on 8 August.