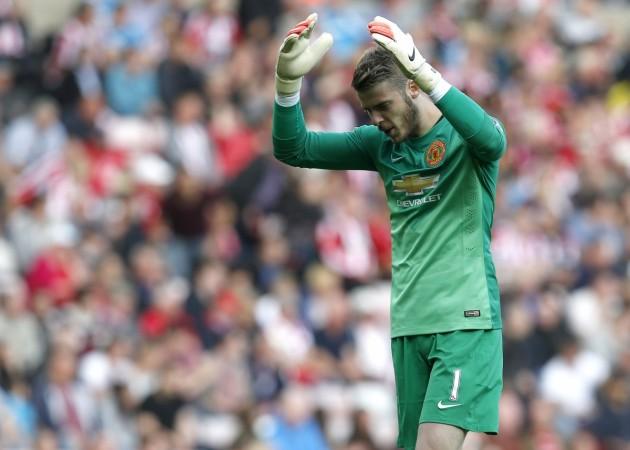 Manchester United goalkeeper David De Gea has revealed that he once considered leaving the Red Devils and heading back to his native Spain when he initially failed to establish himself at Old Trafford.
The 23-year-old Spaniard, who arrived from Atletico Madrid for a transfer fee of £17.8 million in the summer of 2011, is now currently the first choice goalkeeper at Old Trafford, having been in excellent form for the Red Devils in the last two seasons.
Dea Gea made the PFA team of the season in 2012/13 campaign, while he was voted as the club's best player last season.
The former Atletico Madrid goalkeeper also earned praise from current Manchester United boss Louis van Gaal after he saved a penalty from Leighton Baines and then making a couple of brilliant late saves to help the Red Devils register a 2-1 win over Everton in their last Premier League fixture.
However, things were not always fine and dandy for De Gea, and the Spaniard revealed how he came close to calling it quits when was regularly criticised for his performances during his early days at old Trafford.
"It was difficult when you get a lot of criticism like I did. But I kept strong and I always tried to remain positive. I loved training. It was a great pleasure so I just did my work and worked through it," De Gea told the club's official website.
"Those early days were difficult for me and my family. But when you play for a big club like Manchester United it is normal when you don't play well. I am glad it happened in some ways because the criticism makes you stronger."
The 23-year-old shotstopper feels that all the bad experiences he had during his initial days at United, played a big role in shaping him into a better player.
"I think that experience at the start at United has helped me be the player and man I am now. When you have bad moments you have to improve. You have to become stronger to deal with it, and I believe I have become stronger. I am a much better goalkeeper now," he added.
Meanwhile, De Gea explained how he managed to save Baines' penalty and end the left-back's hundred percent record in spot kicks.
"I had watched Everton penalties before the game and I decided to go to my right and I got lucky. I heard it was the first one he has missed. So I am happy about that," the Spain international said.