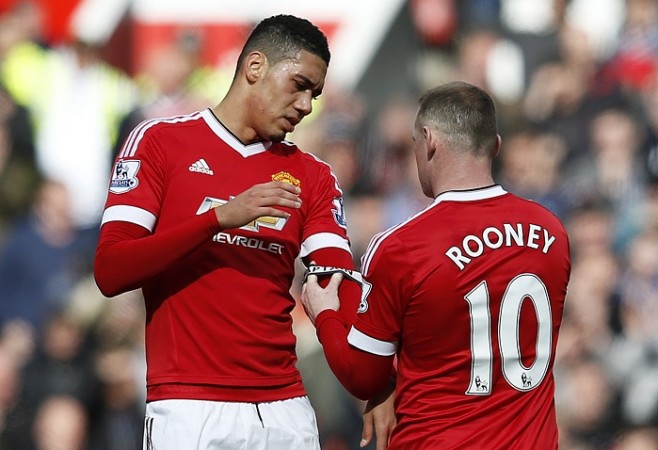 Standing in for the benched captain Wayne Rooney, Chris Smalling had a splendid game for Manchester United on Saturday, scoring the opening goal against the Premier League champions Leicester City, while looking pretty solid at the back. Rave reviews poured in after Manchester United tore Leicester apart in the first half, scoring four goals, and Smalling believes this could be the start of great things for the club.
Coming into the match at Old Trafford on the back of two consecutive Premier League defeats – to Manchester City and Watford – there was plenty of pressure on United to pick up a win, and an impressive one at that, and Jose Mourinho's men certainly delivered, blitzing Claudio Ranieri's men in the first 45.
Smalling opened the scoring with a header from a corner – two more United goals would come off corners – with Juan Mata, Marcus Rashford and Paul Pogba, his first since his record-breaking return, also scoring in a comprehensive 4-1 victory.
After the doom and gloom of last week, things look a lot brighter for Manchester United now, and Smalling believes this team have the capability and talent to play any side out of the park.
"If we can start games with that tempo there won't be many teams that can live with us," Smalling said. "I think when we start the game like that, you can see everyone is on the front foot and you can see the urgency.
"We could have had more goals I think in that first half and playing on the front foot benefits us all.
"By winning games and dominating games like that, I think everyone gets their confidence back and you could see we really put that game to bed in the first half and hopefully there is more of that to come because everyone really enjoyed that.
"It's now about finding that consistency so we stay at the top end of the table. We don't want any more blips, hopefully we have had our last blip for quite a while now."
One of the big talking points before, during and after the match was the fact that Manchester United's best attacking performance of the season came when Wayne Rooney started on the bench. With Mata given a central role, pace added to the flanks via Jesse Lingard and Marcus Rashford and Pogba given the freedom to dictate the game in the absence of the club captain, Manchester United looks like a team transformed.
It will be difficult for Mourinho to justify bringing Rooney back into the starting lineup soon, but Smalling has no doubts that the England veteran will be back to his impactful best again.
"He is our captain, he is one of our main players and there is no doubt that he has got a big part to play," Smalling added.
"He is often the most vocal in the dressing room and he was the same (against Leicester). Regardless of the situation, whether he is on the bench or playing, he is always the same character and that is why he is England's main man and our main man.
"I think he is a very experienced guy and he has played that many games it is only a matter of time before he is back in there and firing again because he is quality."