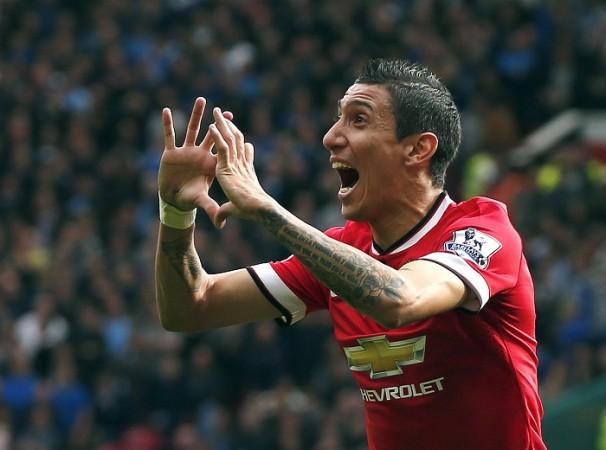 Angel Di Maria has dazzled in the English Premier League ever since signing for Manchester United earlier this summer. The Argentine has showed some mesmerising skill and goalscoring ability already in his short time with United, and the former Real Madrid midfielder has left his mark on his teammates as well.
Tyler Blackett, the Mancunian, who has been given plenty of opportunities to impress by Louis Van Gaal this season, revealed the Manchester United players are in awe and have been left stunned by some of the skills produced by the "special" Di Maria in training.
"He's been amazing," the young defender was quoted as saying by the Manchester Evening News.
"He's one of the world's best players and the things that he does in training really make us stop and stare.
"The dribbling, the close control, these are things that a lot of players would like to have, but that not everybody's got. He really is special."
Di Maria is a setpiece specialist and has already made an impression with his freekicks.
Blackett believes he has the ability to find the back of the net with the dead ball as well, and is more than willing to learn from the master himself.
"Hopefully further on into the season, you'll get to see me take [a freekick]," he told BBC Match of the Day magazine.
"I'd certainly be happy to if the opportunity came up. For now though, Angel's the expert so I'm just looking up to him."
Di Maria has scored three goals in his first five matches in a Manchester United shirt, with a couple of them being absolutely out of the top draw.
Manchester United are desperate to get back into the top four of the English Premier League, a position they find themselves in at the moment, following back-to-back Premier League victories over West Ham and Everton, following their statement of intend made in the summer transfer window when they paid a British record fee to bring in Di Maria.
The likes of Radamel Falcao, Daley Blind, Marcos Rojo, Luke Shaw and Ander Herrera have also been roped in for considerable sums, but, going by the current form, Di Maria looks like the biggest gem.
If the Argentina international keeps up this form for Manchester United this season, then the woes of their last campaign, when they could only finish seventh under David Moyes, while not exactly playing the most aesthetic, eye-catching football, will certainly be quickly forgotten.