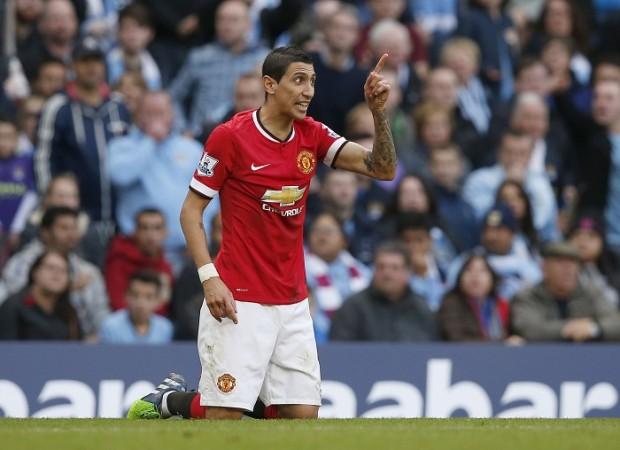 Manchester United legend Paul Scholes, ever since beginning his career as a pundit, has not held back on his feelings and opinions – be that concerning his former club or others. And the elegant midfielder (when not going in for a tackle, of course) was at his opinionated best again, claiming Angel Di Maria, the man who made a storming start to life at his new club, is not a happy chappy at Manchester United.
Di Maria took to the English Premier League like a duck to water at the beginning of the season, scoring goals and picking up assists with ridiculous ease. However, those assists and goals have dried up a little bit in the last couple of games – one because of the opponents that Manchester United have faced – Chelsea and Manchester City -- and two, because manager Louis Van Gaal has gone with a more conservative formation in a bid to stop conceding goals.
And according to Scholes, Di Maria has not looked as happy as he did banging in goals and laying on assists during his time with Real Madrid.
"Preparing for the game in Madrid this week, I watched re-runs of last season and Angel di Maria smiling broadly as he celebrated goal after goal with Cristiano Ronaldo," Scholes wrote in his column for the Evening Standard.
"He doesn't seem to be in the same happy mood at United. It feels downbeat among the team. I am also worried that the mood among the United players seems a bit low key."
Regarded as one of the best midfielders to ever play in the Premier League, Scholes also did not hold back on Van Gaal, insisting the Dutchman should have made a much better start than he has done, especially considering the amount of money spent during the summer transfer window, bringing in the likes of Di Maria and Radamel Falcao.
"Louis van Gaal talks about progress," added Scholes. "Well, I expected Manchester United to have a better record by this stage of the season.
"Under David Moyes last term my old club had 17 points from their first 10 games. This time, having spent £150million in the summer, they have 13 points from the same number.
"It is difficult to figure out what Van Gaal is thinking during games. His demeanour doesn't change throughout. He looks a bit subdued.
"Certainly he appears very different to the man you saw on the touchline at the World Cup finals [while managing the Netherlands to a third-place finish]."