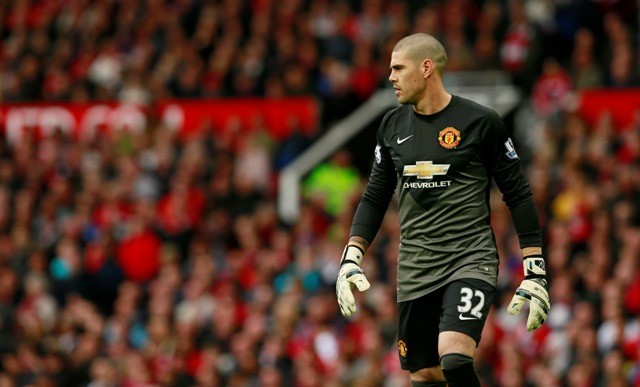 The situation with goalkeepers at Manchester United has become very uncertain now as Louis van Gaal has stated that neither is he sure about the future of David de Gea at the club nor is Victor Valdes staying at Old Trafford.
It's finally out in the open. The relationship between the United manager and Spanish custodian Valdes has turned very sour, and now, the shocking revelation by the Dutch manager comes just days after Red Devils fans wondered why the ex-Barcelona goalkeeper wasn't included in United's pre-season tour of America.
In a press conference in Seattle, Van Gaal didn't mince words when he said that Valdes just didn't follow the manager's "philosophy", and as a result, the player deserved to face the consequences.
"He is not selected because he does not follow my philosophy. Then there is not one place for one player [who does that]. The philosophy is how you play football and how you maintain your match rhythm," Van Gaal revealed.
"For example, he refused last year to play in the second team. That is one aspect of our philosophy but there are a lot of others for how you have to play [if you are to be] a goalkeeper for Manchester United. When you are not willing to follow the principles of the philosophy, there is only one way and that is out," the ex-Netherlands manager added.
Valdes was allowed to train with Manchester United from October last year, following which the Spaniard was awarded a three-year contract in January this year. Since then, he made just two Premier League appearances.
And now, nobody expected such a shocking development to take place in just a few months' time.
"For us it is a big disappointment. We thought he would follow our philosophy but it is a pity because we have given an opportunity to rehabilitate and then we gave a contract," the ex-Barca manager, who has earlier worked with Valdes, continued.
"Then when he is fit to play and when you are not playing in the first selection you have to play in the second selection. He refused that."
Valdes has received interest from Turkish side Antalyaspor this summer - a news that was confirmed by his agent. But his agent Gines Carvajal categorically rejected the offer.
Goal has also meanwhile revealed that Valdes' agent is in talks with La Liga outfit Valencia over a season-long loan deal for his client.
Van Gaal has three goalkeepers at his disposal for the ongoing preseason tour - De Gea, Anders Lindegaard, and youngster Sam Johnstone.
The former Atletico Madrid custodian might be touring with the side, but when asked about his future at Manchester United, Van Gaal passed the baton to De Gea to decide his future.
"It is dependent on David De Gea," he said. "Shall he stay? He is training here and doing his utmost best," Van Gaal revealed.
De Gea has been heavily linked with Real Madrid this summer, and with Iker Casillas having already left the Los Blancos to join FC Porto, the De Gea to Madrid transfer saga is set to go for a while longer.
The Red Devils, amidst all this, have been linked with Argentina international Sergio Romero, and Van Gaal has admitted he may need to sign another goalkeeper.