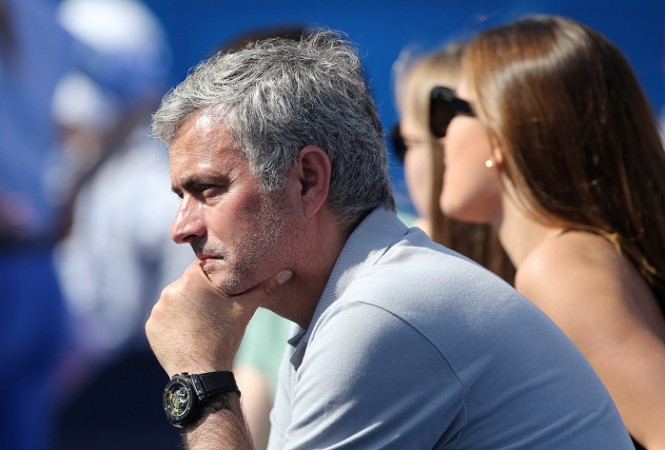 Numerous reports are surfacing on the web stating that "Jose Mourinho to Manchester United" is almost a done deal now. From the former Chelsea manager agreeing personal terms with the Red Devils to Mourinho being handed a £300m transfer budget at United, various reports have come in, and it is only a matter of when the official confirmation will arrive.
Manchester United aficionados also say that Mourinho is the rightful candidate to replace current manager Louis van Gaal at Old Trafford. Everyone expected the Dutchman would deliver and come close to emulating what Sir Alex Ferguson did as the Red Devils manager for close to two decades, but that didn't exactly turn out the way fans wanted.
It is but a boring and un-Manchester United-like football that Van Gaal brought at the Theatre of Dreams.
United legends Rio Ferdinand and Robbie Savage also feel that the former Netherlands boss' time is up at Old Trafford, and Mourinho is the perfect candidate to replace Van Gaal as the manager of the club.
"From when I left, I knew it would be difficult. But I expected more," Ferdinand, who is currently in India as part of a charity programme with BT Sports, said exclusively to NDTV. "I expected us [Manchester United] to make a bigger change under the new manager but it just hasn't gone as well as we would have liked.
"I think the biggest problem today is the style of football. If you speak to anybody, that's the biggest problem for people. They can understand not winning sometimes, but if you play the right way, the philosophy that everyone has come to expect from Manchester United, then people will be more accommodated. But that has not been the case," Ferdinand, who left United at the end of the 2013-14 season after more than a decade-long career, explained.
Robbie Savage, who started as a youth player with Manchester United in 1991, mentioned that Mourinho is the perfect candidate who can improve the club's current un-entertaining style of play. "United have a big decision to make this summer. With Pep Guardiola going to Manchester City, I think Manchester United should also make a statement, and I believe they should appoint Jose Mourinho the same day Guardiola takes helm at Man City," the Leicester City veteran said.
The name of Ryan Giggs was also brought up as another possible replacement for Van Gaal at the end of the season, and Ferdinand believes Giggs can take forward the philosphy of Manchester United. However, Jose Mourinho, with his proven record of winning trophies, looks ideal to Ferdinand, as the next United manager.
"Jose Mourinho's name is getting mentioned," the veteran centre-back added. "If you want someone whose got a career track record in winning in the Premier League and various other countries, then he's that guy.
"But if you want someone who understands the philosophy, whose respectful of the philosophy, who identifies with the fans, knows the place inside out, whose going to be a bigger risk, then Ryan Giggs is that guy," the 37-year-old said.