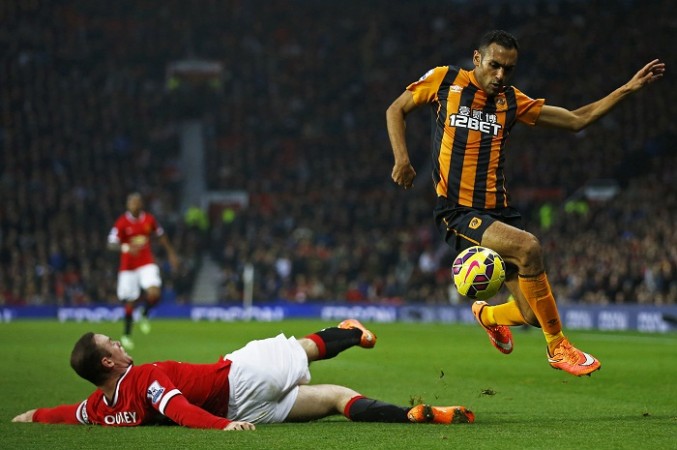 Manchester United skipper Wayne Rooney is set to return for the English Premier League clash against Southampton, but Angel Di Maria will definitely miss the match on Sunday, even if the injury is not that serious.
Rooney missed the match against Stoke City on Tuesday with a knee injury which he picked up against Hull last weekend.
However, Van Gaal had stressed the problem was not too concerning, even if he could only be sure the diagnosis after a scan, and the Manchester United manager, on Friday, confirmed his captain would be fit and ready to face third-placed Southampton on Monday.
Di Maria, however, will not feature against Southampton, with the match on Monday coming too soon for the Argentine. Di Maria had to be taken off in just the 13th minute against Hull last weekend, after the midfielder suffered what eventually proved to be a small tear in his hamstring.
While Di Maria will not be available for the Southampton game, Van Gaal is not fretting too much about the injury to his star midfielder.
"It's not a bad injury, but I am not a doctor," said the Manchester United manager to MUTV. "I have to say it like a manager, not like a doctor. But I think he shall recover very quickly."
Van Gaal's injury woes in defence are also easing off, with Jonny Evans returning to full training along with Phil Jones. While Evans could be in contention for at least a place on the bench against Southampton, Jones is still a few days away from being considered.
"Evans is coming back," added Van Gaal. "He is fit to play. Jones is coming back but not fit to play. He needs training sessions and maybe also matches in the second team. But he is coming back.
"He is fit to train. That is also very good. We are seeing already light in the tunnel."
Manchester United will have the luxury of watching how the rest of their rivals go over the weekend, before taking on Southampton, in what promises to be a cracker of a contest at St. Mary's on Monday.
A win over Southampton will take Manchester United to third place, above their opponents, a pretty good position considering the difficult start that Van Gaal's men endured at the start of the season.