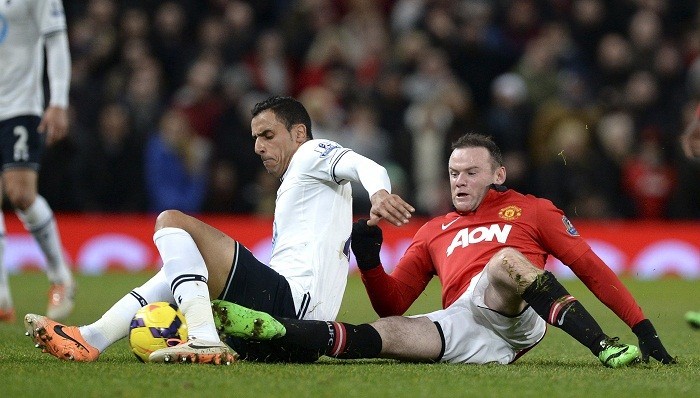 After seeing his Manchester United side go down 2-1 to Tottenham in the English Premier League on New Year's Day, David Moyes admitted he might have to do without the services of talisman Wayne Rooney for the next few games as the forward struggles with a groin injury.
Rooney missed the win over Norwich at the weekend, and was doubtful for the Spurs clash, with Moyes deciding to include the 28-year-old knowing the importance of Wednesday's fixture and also due to the continued absence of strike partner Robin Van Persie.
However, Rooney could not inspire another how-do-they-do-it Manchester United comeback, as Spurs quelled attack after attack in the final moments to take away all three points.
Rooney was clearly not at his influential best at Old Trafford, and Moyes revealed the England international played despite still carrying a groin injury.
"The plan was to play Wayne for 90 minutes, but he has a bit of a groin injury," Moyes said. "The longer it went on, we had to try to get more attacking players on the pitch to try and find more ways to score.
"If I could [rest Rooney] I would, but the games are coming thick and fast. He has missed a game with his groin and he may well miss some more coming up."
United next face Swansea City on Sunday in the FA Cup third round, and having played the 90 minutes, Rooney could well be ruled out of the Cup tie.
Another player who also seems likely to miss out is Van Persie, who has not been available for the past three weeks. Asked if the Dutch striker would be fit for the Swansea game, Moyes said: "I'm not sure yet."
Meanwhile, United defender Jonny Evans felt his side were unlucky not to come away empty-handed against Tottenham. "I thought we did enough to have got something out of the game," Evans told MUTV. "We put them under a lot of pressure without creating too many clear-cut chances and they defended well.
"Their goals came from nowhere, really -- they had two breaks on us that left us open. It's disappointing but we'll keep plugging away.
"We've started the New Year on a bad note but we'll keep trying to get results. In the last six games we've played quite well and controlled matches -- we have to keep at that."
The 2-1 loss to Spurs was United's fourth at home this season, with 20 of their 34 points coming away from home, and Evans knows that trend needs to change as soon as possible, if the club are to make a challenge for the top places.
"Our home form hasn't been good, our away form has and we have to get the balance right," Evans added. "We left ourselves too open to the counter-attack against Spurs and they caught us on the break twice, whereas away from home we're a bit more defensive in our setup.
"We want to entertain our fans and score goals. I think that's to our detriment a bit -- maybe we should be a bit more patient."