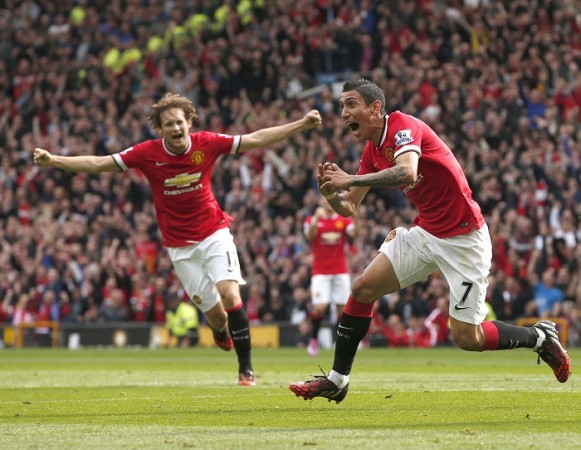 Manchester United manager Louis Van Gaal admitted his injury worries are easing considerably, but Angel Di Maria remains an unlikely starter for the big English Premier League game against Tottenham on Sunday.
Di Maria missed the comfortable 3-1 win over Newcastle United on Boxing Day with a pelvic injury picked up in training, and Van Gaal revealed the midfielder, whose ridiculous early-season form has been hampered recently by injuries, suddenly pulled up in a training session just prior to the match against the Magpies.
"It was a little bit amazing because he did everything very well, but he stepped out and now we have to wait and see for the analysis," said Van Gaal after seeing his side romp to their seventh win in eight matches on Boxing Day.
There is plenty of good news on other injury fronts, however, with Ander Herrera and Luke Shaw possible inclusions in the matchday squad, while Marcos Rojo and Daley Blind are closing in on their comebacks.
"All the injuries are coming back," said Van Gaal, who would have much preferred to have most of his players available during the festive season rather than right after.
"It is a little bit late for us because now we have to play a lot of games within one week. But they are coming back and, within two weeks, I think a lot of players will be back.
"Rojo is responding very well, that is what I mean. All of the players are responding very well.
"Blind is also responding very well. But OK, maybe two weeks."
Adnan Januzaj, though, has been ruled out of the game against Spurs, where Manchester United will look to extend their unbeaten streak to nine, while Marouane Fellaini, who has missed the last couple of matches through illness, is yet to recover as well.
"Januzaj is ill. It is a virus that is now running in the air," added Van Gaal. "The virus has approached a lot of players but for him, it was too much.
"Also Fellaini. I think it is the Belgium virus! Will he be ready for Spurs? No he is ill. Fellaini and Adnan are not ready."
Interestingly, though, the Daily Mail claims Fellaini has been unable to take the field not just because of illness, but rather a rib injury, which he suffered during the win over Liverpool.
Indeed, the report says Fellaini will also miss the Premier League clash against Stoke City on New Year's Day with the rib problem.