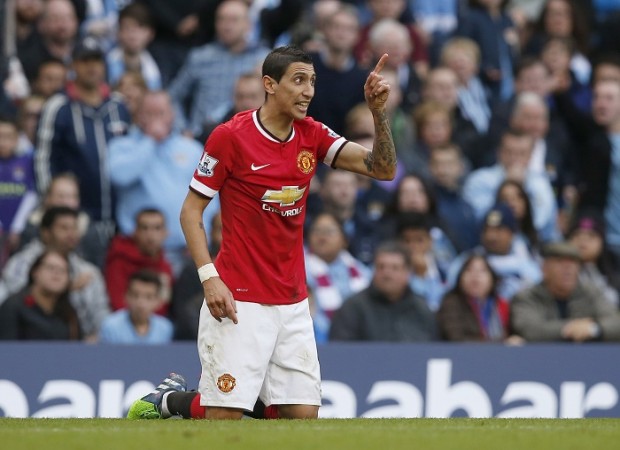 Manchester United have good news and bad news on the injury front ahead of the high-profile English Premier League clash against Arsenal on Saturday.
Louis Van Gaal was contemplating losing an entire team through injury before going into the Emirates to take on Arsenal, however those injury worries have eased a little bit, with the likes of David De Gea, Michael Carrick and Angel Di Maria all set to be fit.
De Gea dislocated his finger in training with Spain last week and there were doubts over his availability for the Premier League match on Saturday. However, Van Gaal confirmed his number one goalkeeper would be fit and raring to go against Arsenal in a big boost.
Added to that positive list are Di Maria, who got a kick from Nani in the friendly between Argentina and Portugal at Old Trafford, and Michael Carrick, who picked up an injury while on England duty. Luke Shaw, though, is a doubt.
"Di Maria has trained today normally so I don't think that is a question mark, but Shaw is a question mark," Van Gaal said on Thursday.
"David De Gea is good, no problem. I think Michael Carrick I have to wait for the reactions tomorrow in the training session, but I expect also that he's ready to play."
Daley Blind, however, will miss the Arsenal match, and a few more after that, with a knee injury suffered while playing for the Netherlands in the international break.
"Blind is not ready to play," added Van Gaal. "He has now a brace on his knee, 10 days' rest, then we have to make another scan and we can say more about his injury.
"It's not so bad as the doctors are thinking after the match, but it shall be a long story, I believe, but not six months or something."
While all the attention has been on the striker that Manchester United let go to Arsenal – Danny Welbeck – in the lead up to this game, the forward who replaced him at Old Trafford will not be a part of this big clash, which not too long ago use to be THE Premier League match of the season.
Radamel Falcao was expected to make his return from a calf injury picked up in training against Arsenal, but Van Gaal revealed the prolific striker would be out for a further two weeks.
"No, he's not available," said Van Gaal when asked about Falcao. "He has an injury and that takes time.
"Now it's four weeks already and next week he shall train with our selection and then he needs two weeks. It's always like that.
"It's a pity, but players in football are injured."
There has been plenty of speculation over the future of Falcao, with reports suggesting the serious knee injury he suffered with Monaco last season, and which also made him miss the World Cup, was the reason behind his struggles.
However, Falcao, himself spoke out, rubbishing the reports and insisting his knee is perfectly fine.
"I am getting better, I feel well and I hope to come back to the pitch soon," Falcao told the club's official website. "It is disappointing that I can't play but I have to be calm and recover because that is important to help the team when I return to the games.
"It is a bit frustrating," added the striker when asked about the reports over his knee injury. "Well, it is more than frustrating actually and it detracts from the credibility of the media that there is so much speculation and that so many falsehoods have been written about it.
"I think with an audience of so many millions of people, it is not right. I did take a small injury to my calf, which is something that I need to be careful with, but there are a lot of stories circulating that are pure speculation."