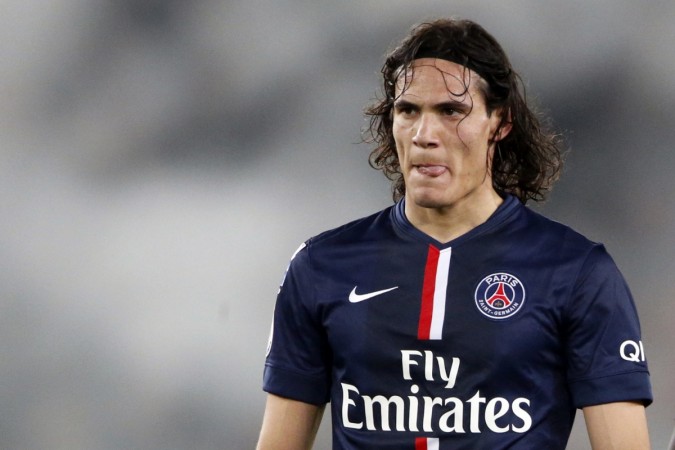 Manchester United have become one of the busiest teams in the transfer market with a number of players being linked or terms being agreed. The signings of Southampton's Morgan Schneiderlin is also expected to be made official sooner than later, as Red Devils have signed Bayern Munich's Bastian Schweinsteiger and Torino's Matteo Darmian of late.
Louis Van Gaal seems to be forming a strong team for the upcoming English Premier League, which starts on 8 August as they face Tottenham Hotspur in their season opener. After having finished fourth last season, Manchester United are more than eager to challenge for the EPL title this season.
Louis Van Gaal is aware of some signings, which he needs to conduct before the transfer window shuts down to provide a stiff title challenge, hence signing a quality striker will be on the agenda of the Red Devils' manager, Louis van Gaal.
With the imminent departure of Robin van Persie to Turkish club, Fenerbache, Paris Saint Germain's striker Edinson Cavani is Louis Van Gaal's key target, reported The Guardian. The report further states that Manchester United could even allow their Argentine winger, Angel Di Maria to move to PSG in order to sign the prolific Uruguayan striker.
Angel Di Maria has not been able to impress Louis van Gaal, hence the Red Devils' boss will not mind letting go of the player if the deal can help Manchester United sign a top class player. Di Maria was even benched in the latter half of the season as his performance gradually began to dip further at end of the season.
With Edinson Cavani reportedly unhappy at PSG, the move makes great sense for PSG as well as Manchester United, but the question remains – are PSG willing to sell their mega striker? PSG manager, Laurent Blanc has made it clear the club will only sell the player if it suits the French club.
Louis van Gaal signed Monaco striker Radamel Falcao last summer on a season long loan with the hope of making a move permanent, but the Colombian could not impress at Old Trafford as a result of which the player's move was not made permanent.
Chelsea have signed Radamel Falcao for another season long loan from Monaco.
Even if Manchester United are not able to sign Cavani, they have to sign another world class striker for they cannot depend on Wayne Rooney alone to score goals and help them win matches. Another player from Bayern Munich, Thomas Muller has also been reportedly linked to Manchester United.