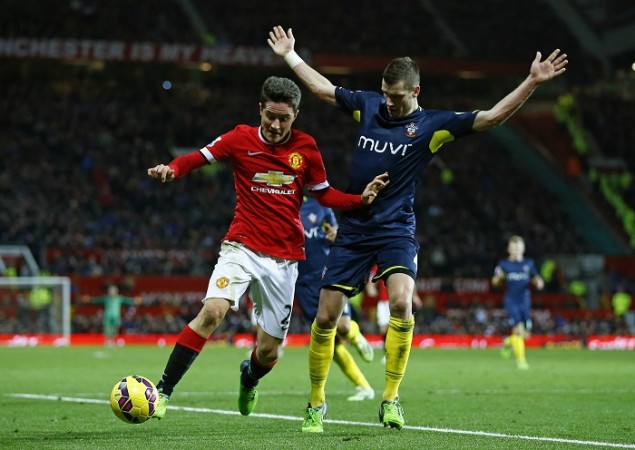 Manchester United have agreed a deal to sign Morgan Schneiderlin from Southampton, beating off competition from Arsenal and Tottenham.
Schneiderlin, on Wednesday, revealed he is in talks over a move away from St. Mary's with his future expected to be resolved within a few days' time.
It was believed that meant Arsenal would complete the signing of Schneiderlin, with Arsene Wenger's side linked heavily with the France international for quite a few months.
However, it looks like Manchester United have swooped in and agreed the transfer for Schneiderlin. The Daily Mirror pegs the transfer fee at £24million, while the Daily Star claims the amount will be £20million, rising to £25million.
Either way, Schneiderlin's move to Manchester United certainly makes sense, as Louis Van Gaal desperately needs a solid holding midfielder. Only Michael Carrick has consistently impressed in the position for the club of late, and with the midfielder turning 34 next month, a long-term solution was a must.
Schneiderlin definitely fits that bill, and Van Gaal will also be able to play the France international alongside Carrick if necessary.
Arsenal were thought to be the favourites for the signature of the Southampton man, but reportedly baulked at the £25 million asking price, especially after Francis Coquelin made such an impression for the club last season.
Tottenham do not have Champions League football to offer like Arsenal and Manchester United, and with Schneiderlin insisting he would only sign for a club playing in Europe's elite tournament, Spurs were always fighting a losing battle.
The reports also suggest Schneiderlin's impending move to Old Trafford means the end of a possible arrival of Bastian Schweinsteiger from Bayern Munich.
Schweinsteiger, who enjoys a healthy relationship with Van Gaal, was tipped for a switch to Manchester United, after talks over a new deal with Bayern seemed to break down. With just a year left on his current deal, it seemed like Manchester United might be able to get the outstanding midfielder for a cut-price fee, but latest reports suggest the 30-year-old will remain at the Allianz Arena.
Bayern legend Franz Beckenbauer also urged Schweinsteiger to snub interest from the Premier League and continue his career with the Bundesliga champions.
"I would advise him not to go to England," Beckenbauer was quoted by the Daily Mail. "This challenge, at his age, it's not what he needs.
"He can stay here. I would play one or two more years in Munich, at this high level. And then, if he still wants to and if he still feels like playing football is the thing, he can make a step back and maybe go to the USA.
"In New York, Cosmos is searching for players, also Red Bull. So I think if he, as a world champion, goes to New York or another club in the Major League Soccer, that would greatly improve the standing of football there."