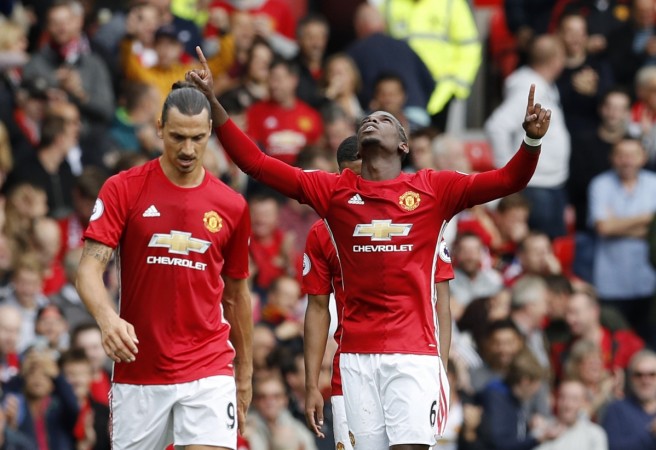 The Reds went marching on at the Theatre of Dreams on Saturday after recording a 4-1 win over Leicester City in their sixth Premier League 2016-17 game. Jose Mourinho's side now have four wins and two defeats in the domestic league this season.
Manchester United fans witnessed their best game of the season so far as they made defending Premier League champions Leicester City suffer. Right from the word go, the home side started attacking and it was in the 22nd minute that defender Chris Smalling scored from a perfectly timed header off a corner from Daley Blind.
That was just the start of things. Ander Herrera, Zlatan Ibrahimovic, Marcus Rashford, Paul Pogba and Juan Mata steadily upped the ante soon after. Old Trafford erupted for a second time, in the 37th minute, as a wonderful build-up between Pogba and Jesse Lingard saw Mata getting on the scoresheet in his 150th Premier League start to double United's lead.
Leicester, well and truly struggling, had lost their magic touch. The likes of Marc Albrighton, Riyad Mahrez and Danny Drinkwater were doing their best in midfield, but everything seemed to go wrong. The United goal blitz continued two minutes later and it was Mata this time who got the assist for Rashford who scored comfortably in the 39th minute. Much credit was due for Blind as well who took a clever quick corner.
In the 42nd minute, the most expensive Manchester United player ever, Paul Pogba, finally got his much-anticipated first goal on return, when he blasted home a header from yet another perfectly-taken corner by Blind.
Leicester City boss Claudio Ranieri decided to substitute Jamie Vardy and Mahrez -- their two key players -- at halftime. It looked strange for a while but it didn't change the game for the Foxes too much in the second half. Demarai Gray, who came on for Mahrez, scored a cracker of a goal in the 60th minute to prevent David de Gea from bagging a clean sheet.
The 20-year-old Englishman cut in from the left wing to slam a curling ball to the top corner of the net.
Wayne Rooney, who missed out on getting a start, was brought on in the 83rd minute for Rashford, couldn't make that great an impact in the final minutes, but he definitely will not be criticised for his performance this time.