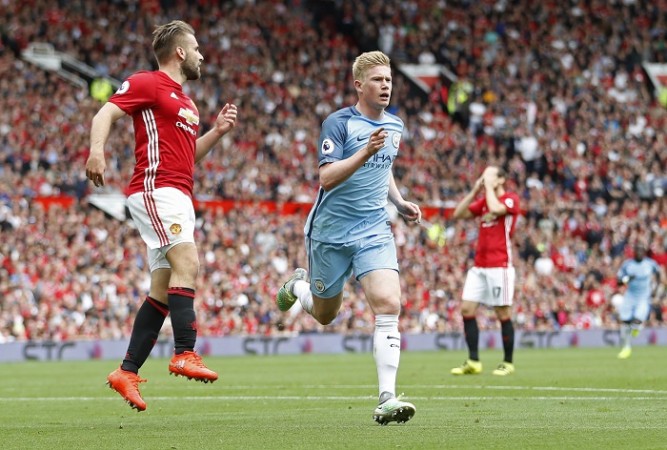 Kevin De Bruyne showed why he is one of the best playmakers in the world, putting in a world-class performance to give Pep Guardiola victory over Jose Mourinho in this biggest of Manchester derbies at Old Trafford.
This was not a Manchester United vs Manchester City match that failed to his top gear, one that will fade from memory soon, but one that had chances, quality and plenty of bite. At the end of it all, De Bruyne's quality proved to be the difference, with the Belgian scoring the opener and playing a big hand in Kelechi Iheanacho's strike, with Zlatan Ibrahimovich's goal, late in the second half, after a howler from debutant Claudio Bravo, proving to be a consolation.
The first half, barring the United goal, was all Manchester City. They had the possession, chances and a sense of calm so essential in such a big game, even if the goal they conceded came the one time they did lose it.
While Manchester City pinged the ball around – and Bravo was quite good with his distribution from the back – Manchester United ran around like headless chickens, and every time Jose Mourinho yelled "press, press" from the touchline, all it did was open up a bit more space for City to exploit with a bit of quick passing.
The idea from City was clear, keep possession and when you're in the final third, play that final ball quickly. It seemed to work too as De Bruyne buzzed around dangerously, David Silva looked his usual silky self, Nolito and Raheem Sterling provided the width and Kelechi Iheanacho was happy to stitch things up when needed.
Apart from being unable to stop City from controlling possession, Manchester United also gave the ball away rather alarmingly, making it all the more easy for the away side to dictate the game.
Their dominance was rewarded in the 15th minute, when De Bruyne nipped in ahead of Daley Blind off a knockdown from Iheanacho to run clear on goal and calmly slot the ball to the right of David De Gea.
Nine minutes before halftime and it was 2-0 – well deserved too – with Iheanacho the man this time to mark his name on the scoresheet. After De Bruyne saw his low shot hit the base of the post and come out, Iheanacho was in the right place and the right time to tap in.
At this point you almost feared for Manchester United, with a 4-0 or a 5-0 scoreline not looking unlikely, but then a moment of madness from Bravo changed the game completely. A harmless looking floated ball into the box from Rooney saw Bravo come well outside his area to try and punch it away. All he managed to do was get into a collision with his own player John Stones, with the ball dropping down for the technically-perfect Ibrahimovic to volley into an empty net on 42 minutes.
Just like that the momentum shifted and Manchester United should have really gone into halftime level, with Ibrahimovic, surprisingly, failing to find power on a shot, after Stones and Bravo, again, had made a complete hash of things.
Despite the late first half goal from Manchester United, Mourinho was still an angry man when he left the pitch and he looked angrier when he walked back for the second half, muttering to himself, suggesting the players had been given a real talking-to in the dressing room.
Well, that talk seemed to make a difference, with Manchester United, who had Ander Herrera and Marcus Rashford come on as halftime substitutes for the ineffective wide men Jesse Lingard and Henrikh Mkhitaryan, making more of a game of it in the second 45.
Half chances came for Ibrahimovic, and with Bravo looking a nervous man again after that mistake, Manchester United nearly found the equaliser. Pressing the goalkeeper, the new Manchester City signing went for the dribble, which nearly cost him a penalty and possible a red card, with only a saved-by-the-bell tackle on Rooney preventing another disaster.
Manchester United looked a lot better, more assured on the ball and not like a team who had just been put together five minutes back, but owing to the space that opened up as the home team looked for the equaliser, City were the ones who carved the clearer chances, with De Bruyne hitting the base of the post again and Silva firing one just a tad high.
The kitchen sink came out at the end from Manchester United, but Guardiola and co. held on for what could prove to be a momentous win when all is said and done.
Other results: Arsenal 2-1 Southampton; Stoke City 0-4 Tottenham; Bournemouth 1-0 West Brom; Burnley 1-1 Hull City; Middlesbrough 1-2 Crystal Palace; West Ham 2-4 Watford.