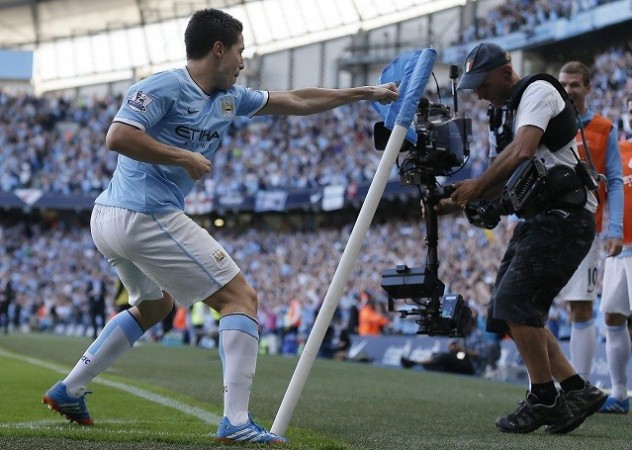 Revenge will be on the minds of Manchester City when they host Wigan -- the team that beat them soundly in the F.A. Cup final last year -- in the third round of the Capital One Cup on Tuesday.
City are still reeling from that monumental loss, a result that was the final nail in Roberto Mancini's coffin as City manager.
"I can't explain what happened against Wigan (in the F.A. Cup final)," defender Micah Richards said. "There was just something missing on the day and it wasn't the same as when we played Stoke in the 2011 final. That day, it was like 'we will not lose this game' and there was a determination among the lads to win that first trophy.
"There was definitely something lacking. Wigan have always played us well and have been a bit of a bogey team, but I would never say the guys weren't up for it because we always want to win, but I just felt they wanted it more on the day.
"Every 50/50 tackle seemed to go their way and they just seemed to win the individual battles on the day. That game is in the past now but we have to make sure we put things right in this game and try and progress in the competition."
The landscape has changed considerably since that epic day in May. Both teams have new managers and one of them aren't even in the English Premier League anymore.
City, under Manuel Pellegrini, are still a work in progress, but the talent that they possess was shown in full flow in the 4-1 romp over Manchester United in the Derby game on Sunday.
When on song, this City side can dismantle pretty much any side, and anything resembling the performance at the Etihad in the Premier League on Sunday, and Wigan won't even have a prayer.
Wigan, now managed by Owen Coyle after Roberto Martinez left for Everton, have not had the greatest of starts to life in the Championship, after they were relegated last season from the Premier League. However, when it comes to Cup games, anything is possible and Coyle will be hoping for another improbable win.
The Latics will be playing their third game in six days after their Europa League engagements on Thursday and Coyle believes that particular aspect has made the City game even tougher than it already is.
"If you were going to equate it to poker we've not been dealt a great hand," Coyle said. "But that's been dictated by TV and we're not exactly thrilled about it, but we need to get on with it.
"Any game I enter in to I want to win but we're playing against an elite club, not only in English football but in European football, one of the favourites for the Champions League, never mind the Premier League, and we're asked to go there after one day's rest and try and win that cup tie."
Team News: Richards is set for a return from injury against Wigan, with Pellegrini expected to make several changes to the starting XI. David Silva and Gael Clichy, who missed the Manchester Derby through injury, though, remain doubtful.
Wigan will be without Shaun Maloney, while Marc-Antoine Fortune is also a doubt after missing the game against Ipswich Town on Sunday.
Where to watch
The match is scheduled for 12.15 a.m. IST (Wednesday) kickoff with no Live telecast scheduled.
Expected lineups: Manchester City: Pantilimon; Richards, Lescott, Nastasic, Kolarov; Rodwell, Garcia; Milner, Jovetic, Nasri; Dzeko.
Wigan: Carson, Shotton, Boyce, Perch, Gomez, Watson, McArthur, Powell, Espinoza, McManaman; Barnett.
Prediction: 3-0 to Manchester City