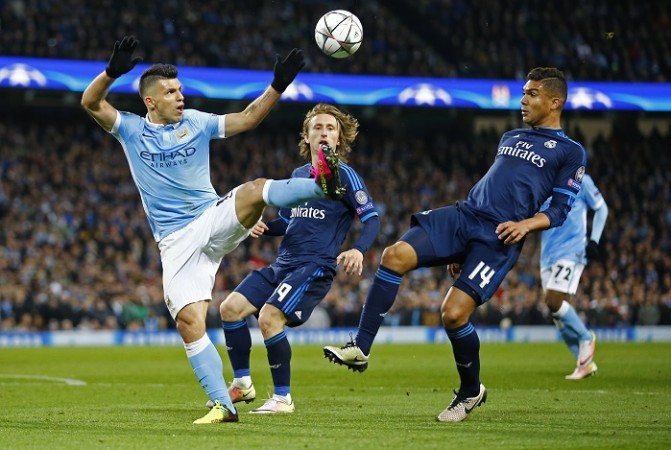 Manchester City failed to take advantage of the absence of Cristiano Ronaldo, firing blanks over the 90 minutes of the first leg of the Champions League semifinals at the Etihad Stadium. In a match that City really needed to show some attacking verve and nous in front of goal, their own star-filled lineup failed to come to the party, giving Real Madrid an advantage, albeit a small one, going into the second leg at the Bernabeu next week.
With news trickling in an hour or so before kickoff that Ronaldo would not even be in the squad, let alone in the starting lineup, the majority crowd at the Etihad would have expected their team to come out all guns blazing. Instead, after a tetchy first half, where neither team really looked capable of scoring goals, Manchester City relinquished any sort of control in the match in the second, even with Karim Benzema making way for Jese, with only the crossbar and Joe Hart keeping the tie at 0-0.
Real Madrid, for all their star quality, look a team not quite there as far as the attacking quality and goalscoring ability is concerned when Ronaldo, who used to call the red half of Manchester home, is not in the lineup. Gareth Bale did his best to try and step up in Ronaldo's absence, but for all his huffing and puffing, the end product just wasn't there.
The centre-back Pepe had the best chance of the game, when his effort from six yards out off a corner was repelled by Joe Hart. The Manchester City goalkeeper could not quite get a hand to Jese's header a little earlier, however, but, thankfully, for the English Premier League side, the ball bounced off the crossbar and out.
City lacked precision in possession and cutting edge going forward, with Sergio Aguero anonymous for the most time – a left-footed shot from outside the box that went high was about as good as it got for the former Atletico Madrid striker -- and Kevin De Bruyne, who came closest with a freekick right at the end, which was saved by Keylor Navas, lacking that pace and verve he usually brings. With David Silva going off injured just before halftime, Manchester City lost a creative force who might have unlocked the Real Madrid defence, with his replacement Ikechi Iheanacho looking a little bogged down by the occasion.
Real Madrid will look back at this game and think they should have come away with at least a goal, while City will know that a 0-0 draw was probably the best result for their performance. Finding a way past a Real Madrid team, who have scored 18 goals at home in the Champions League this season, without conceding, however, will be a task that might prove to be beyond them, especially if they put up a similar attacking performance.