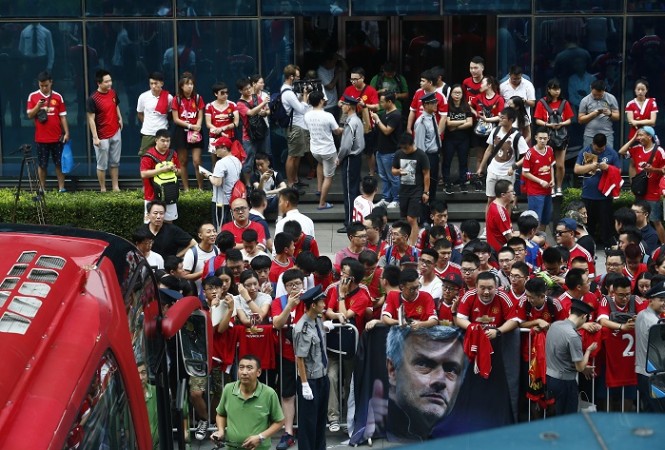 Jose Mourinho vs Pep Guardiola and the first Manchester derby of the season will have to wait. One of the most anticipated preseason matches of this year was called off on Monday, owing to worries over the pitch at the Bird's Nest Stadium.
The International Champions Cup match was scheduled to be played later on Monday, even if both managers had expressed their concerns over the pitch and the fact that the city had received incessant rain over the past few days. Fungus was also reportedly found on the pitch, increasing concerns of player safety.
"The cancellation was made in the interest of player safety and comes following extreme weather events in Beijing over a multiple day period, that have left the playing surface in a condition deemed to be unfit for play," The international Champions Cup organizers said in a release.
"The conditions experienced in Beijing on July 19 and July 20 were reported as being some of the most extreme weather conditions the Capital of China has experience in recent history. Regular rain occurred also on the July 21 and July 22.
"The decision was made collectively by tournament organizers, participating clubs, China Football Association, Beijing Football Association and the management of the National Stadium."
According to the statement, the Manchester City vs Manchester United will not be rescheduled, meaning fans of the clubs will have to wait until the English Premier League season to watch the two new managers, who have had plenty of issues with each other in the past, clash swords, while supporters who bought the tickets to watch the match in Beijing will be fully reimbursed.
"It's extremely disappointing not to be able to play the game in this amazing stadium but the recent torrential rain would have caused problems anywhere in the world and has left the pitch unplayable," Ed Woodward, the Manchester united executive vice-chairman, said. "We know our fans in China will, like the players and staff, be saddened by the cancellation of the match but I am sure they appreciate that the player safety has to be the top priority.
"I am sure we will return to the Bird's Nest in the future to give them the chance to see the team in action."