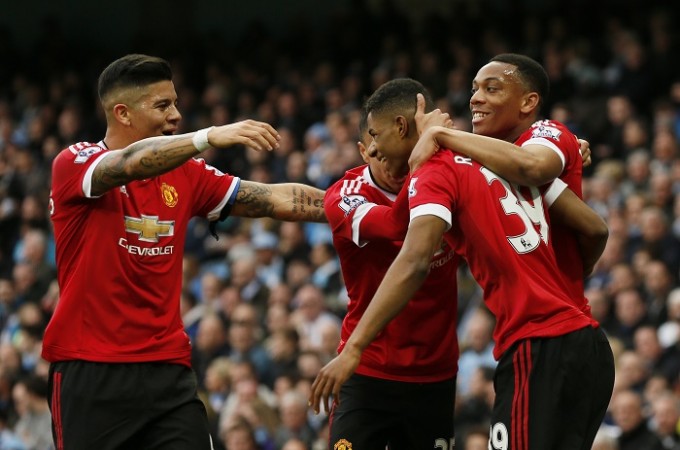 Manchester United registered a 1-0 victory over their noisy neighbours Manchester City at the Etihad Stadium, Sunday. The Red Devils registered their first victory over City at their backyard since December 2012.
United manager Louis van Gaal has all the reasons to be delighted after this win over Manuel Pellegrini's men.
"I'm very happy. I think we played a very good first half. The second half we had chances to score the second, but then we fought until the end and survived," van Gaal was quoted as saying by the ManUtd.com.
"A lot of players had cramp, but that's logical I think when you play on Thursday too. I think it [the performance] was fantastic.
"We did it also against Arsenal after playing on a Thursday and beat them and we have beaten Manchester City also. I am very happy because it's not easy to win here."
The Red Devils have now collected 18 points from their games against the big six of the Premier League this season. However, their form against other clubs in the league has been awful.
United will get a lot of boost ahead of their FA Cup quarter-final replay against West Ham United in the coming mid-week. FA Cup is the only chance of getting a silverware home for United and they will not want to let that opportunity go.
"When I see the dressing room I think it [this result] shall give a boost and real belief. It was fantastic to see. We fight every match of course, but now we have a big result and it was a long time ago that United has won here so it's also fantastic for the fans," van Gaal added.
"I think we have to fight until the end. We have more home matches than away matches. At Old Trafford, we don't lose so much and we have the support of our fans."
The Dutch manager earned a lot of praise after he decided to opt for Morgan Schneiderlin instead of Marouane Fellaini, and Schneiderlin bossed the midfield.