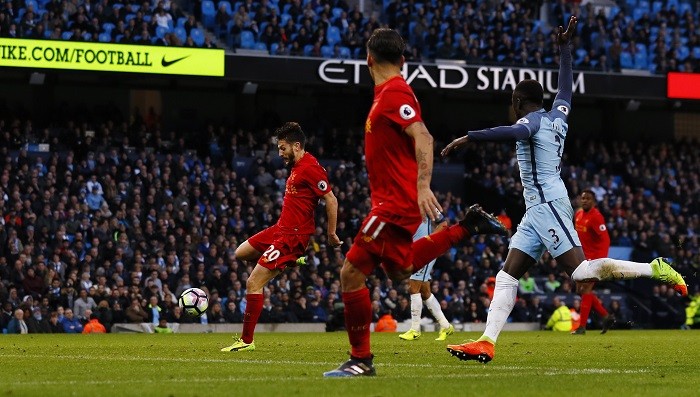 It was a game that should have ended 4-4, but instead Manchester City and Liverpool could only muster up a goal each as the two sides shared the spoils in the English Premier League on Sunday.
Monaco vs Manchester City Champions League highlights
With both teams in love with going forward and scoring goals and generally not worried about the defending part of the game, plenty of goals were expected, and while the chances to out the ball into the back of the net came, came and came some more, the players had an off day as far as finding the target was concerned.
In the end, only two goals were registered, one from James Milner, from the penalty spot, and the other from Sergio Aguero, a nice finish off a fantastic cross from Kevin De Bruyne.
In between, and after, there were quite a few chances and penalty shouts that went begging, but none more so than when Adam Lallana, with the score at 1-1, somehow managed to miss his shot with an empty net screaming at him.
"Obviously he's one of the best – if not the best – player, technical-wise, I have ever worked with," Klopp said of Lallana, whose technique deserted him completely in that miss. "If he couldn't [score] in this moment, I thought it was because he worked so hard before.
"Immediately after the game, Adam said 'sorry' to me and I thought 'why?' – but now I know why he thought he had to say sorry. But he didn't have to because his performance was outstanding again."
Liverpool and Manchester City both missed out on a chance to cement their places in the top four with the draw, and while both remain in those Champions League positions, they would have liked a better result, especially with the chances that were created.
Manchester City manager Pep Guardiola, though, was proud of the way his players responded after going out of the Champions League. "After the Champions League, the last few days at training people were so, so, sad, people don't talk too much," Guardiola said. "We arrive here against Liverpool, who have no Europe all season and one week to prepare. The spirit, how we played, it is one of my happiest days as a manager.
"We created more than them. Our problem is we don't score when they are easy goals. At least we showed spirit that we didn't show in the first half in Monaco.
"When you approach one game after 10 games winning nothing is special. You have to consider the situation we played this game, how we played against them, a top team – they have exceptional players – means a lot to me. That is why I am so happy."