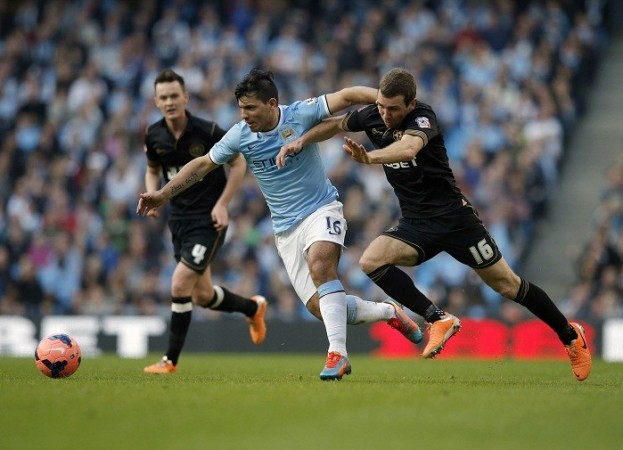 As Manchester City look to overturn a daunting 2-0 deficit against Barcelona in the Champions League, Manuel Pellegrini has also been forced to bat away reports of a potential move to the Camp Nou in the summer for Sergio Aguero.
Aguero has been City's best striker this season, with the Argentine, when not injured, showing exactly why he is regarded as one of the best in Europe.
While City, who suffered a shock defeat to Wigan in the quarterfinals of the FA Cup on Sunday, have a bottomless well when it comes to funds, the likes of Barcelona and Real Madrid do have the potential to entice any player, with Aguero thought to be one of Barcelona's big summer targets.
However, as far as Pellegrini is concerned, Aguero is a City player and will remain one beyond this season.
"I don't think the idea of Sergio is to leave Manchester City," Pellegrini told the Sunday Mirror. "Sergio is very happy here. You never know what can happen in the future, but he is a very important player here.
"Big clubs do not sell their best players and I don't think Sergio will be going anywhere."
However, a few players are expected to head to the Etihad exit sign in the summer with the likes of Joleon Lescott, who will be out of contract at the end of the season, Jack Rodwell, Micah Richards and James Milner all linked with moves away.
If City fail to convince the above mentioned quartet to remain at the Etihad, then the Manchester club might find themselves struggling to fulfil the home grown criteria for next season.
"I don't think anyone at the club is worrying about where the players are from," Pellegrini insisted. "It's not a thing of nationality. It's a thing of the best team. A lot of teams are like that. Maybe sometimes teams in Spain don't play with Spanish players.
"It's very difficult to have important English players in every team. They are very expensive and you don't have too many English players. All the important teams have English players in their side but, if you want to buy an English player, it is difficult.
"We have five English players and three of them -- Joe Hart, Joleon Lescott and James Milner are very important. The other two -- Micah Richards and Jack Rodwell -- have had an unlucky season because they've had a lot of injuries.
"Foreign players are very important and English players are exactly the same. Technically, physically and tactically, they are the same. There are English players in all the big teams here.
"But it is not easy to bring another English player to Manchester City because who will sell?
"I don't think Liverpool would sell their four or five important English players, the same for Chelsea or Manchester United and every team. It's the same for us. If someone came here to buy Joe Hart, City would not sell him.
"We're in England. I know it is important for English football to have English players in every team. But first we must first finish this season and we will see what happens. We know we have to have a certain amount of English players, so we'll see the way we do the list next year.
"Of course, we are always thinking about next season, but we don't have to have any decisions to make at this moment. Richards, Rodwell, Milner and Hart all have contracts with the club. Only Lescott finishes his contract -- maybe he will not continue here."