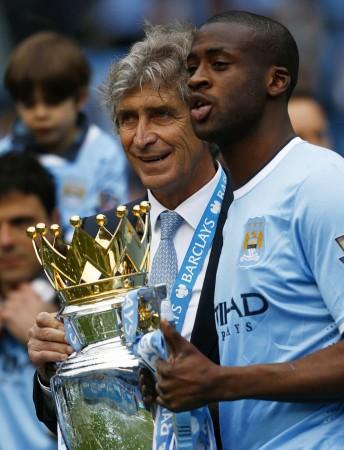 Manchester City midfielder Yaya Toure is reportedly looking to make a move out of the Etihad this summer as he feels that he is not getting enough respect at the club.
The 31-year-old Ivorian's agent Dimitry Seluk claimed Toure was very unhappy after City ignored his birthday during a club meeting in Abu Dhabi a week ago.
As a result, Toure, who has been instrumental in the Citizens' success this season, scoring 20 goals in the Premier League, is reportedly pondering leaving City this summer.
"Yaya is so upset he's thinking of leaving City. There are a number of things that have happened that have left Yaya feeling bitterly upset. He must concentrate on the World Cup now. But City have treated him with disrespect and have really hurt him," ESPN quoted Seluk as saying.
"What happened at his birthday meant the club don't care about him. It was proof. They can say whatever they want, 'Oh we like him but we forgot'.
"Forgot? About Yaya? The player who helped you to be two-times Premier League champions? The guy who helped you win the FA Cup and the League Cup? His birthday can be on a normal day and, in a normal team, his team-mates and club would at least give him good wishes."
"But when you win the title on 11 May, a day later you go to Abu Dhabi and on 13 May you have a big party to celebrate the title and nobody comes to Yaya to say, 'Happy birthday', what more do you want? They don't give any attention to Yaya. This is the s***tiest thing."
However, City will probably not be taking Seluk's suggestions very seriously as the agent is known for making ridiculous rumours time and again.
In May 2012, the agent claimed that Toure would be heading to either Chelsea, Bayern Munich or Barcelona in search of new motivations.
Again in March 2013, Seluk again threatened that Toure would leave City if he was not given a new deal.
This time, however, Seluk, who hinted that the Ivorian could return to Barcelona, says Toure's complaint is about a lack of respect and not money or other motivations.
"Yaya is rich enough, I am rich enough and for us the most important thing is relationships. They don't know that money can't buy relationships - no Sheikh can buy a relationship. This isn't about money or a new contract - it's about human relationships and City have shown they don't respect him. I repeat, this is not about money. In fact, he would take less to return to Barcelona," he added.
Finally Seluk claims Toure's departure could help City, who will only be able to spend £49 million in the transfer market this summer as a punishment for breaking UEFA's Financial Fair Play rule.
"With Financial Fair Play for them, it's very good if Yaya goes.They can receive money and they can show to UEFA they have money. And they can let Manuel Pellegrini win the title with Fernando from Porto."