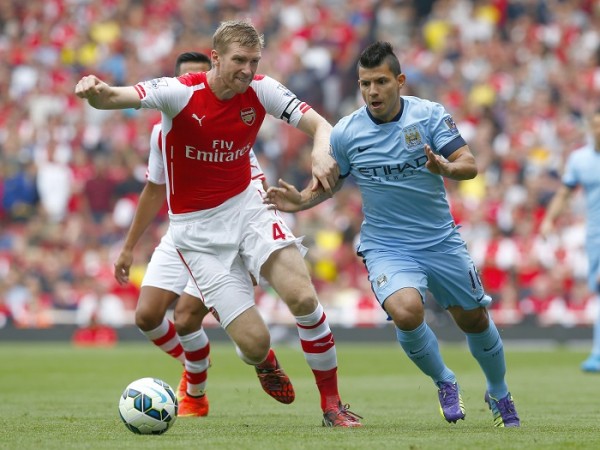 Manchester City have received a major boost ahead of their all important clash against Manchester City later on Sunday at the Etihad stadium with the return of their two prolific players, Sergio Ageuro and Vincent Kompany.
Though, Manuel Pellegrini has to do without the services of the French player, Samir Nasri, who has suffered a calf injury and is expected to be out of action for three weeks.
Manchester City manager, Pellegrini City boss Pellegrini said: "We have had some problems in the week with Samir.
"I think he will be out for three weeks but [to come back] before that is difficult."
They have huge depth in the squad to find a suitable replacement for Nasri, who could have played an instrumental role on Sunday for the Citizens.
But, the team would be upbeat with the return of Aguero and Kompany and the former has been in top form this season, scoring 14 goals in the competition, despite missing games with injury.
He is the second highest goal scorer in the league this season, though it remains to be seen if City uses him as a starter or asks him to come from the bench.
Pellegrini said: "Vincent is 100 per cent okay, no problems.
"Sergio is working with the squad every day, so he doesn't have any problem. We will see if he starts, but at the moment he is 100 per cent fit."
The team players are also aware about the importance of both the players on the pitch, as they can play an influential role and help the team win the game with their performances.
Man City defender Pablo Zabaleta knows the importance of the game, as he told the club's official website, "We have been training very hard for Sunday because we have a very tough game against a very tough team"
"It's good to see some important players coming back from long term injuries because we know, looking forward, that now is a really crucial period for our team.
"We are excited to try to do well and win something at the end of the season, and to do that you always need your best players in good form."
The game is going to be an important one for all the top clubs, such as Manchester United, Liverpool and Chelsea having won their respective matches.
It is a must-win game for both the sides, as a defeat here for Manchester City would mean a wider gap with Chelsea in the title race as the Blues have 52 points from 22 games, while City have 47 from 21.
On the other hand, Arsenal also needs to win their game, as they can inch closer to the fourth position with a win on Sunday, a point behind rivals Manchester United.
Hence, both sides have a lot to play for.