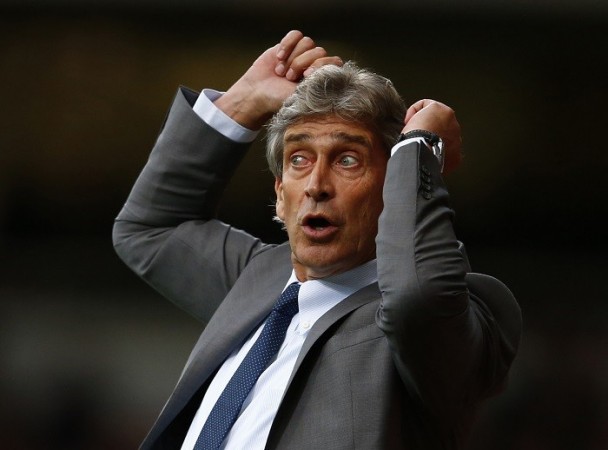 Manchester City have been dealt a blow in their bid to successfully defend their English Premier League title following news of them being without their main strikers Sergio Aguero and Edin Dzeko until the latter half of January.
City boss Manuel Pellegrini had earlier stated that he was hoping for the attacking duo to return to action in the first week of January, but now the Chilean has confirmed that Aguero and Dzeko, who are suffering from knee and calf problems respectively, will take longer than expected.
However, the former Malaga boss' main concern at the moment will be his side's Premier League clash against West Bromwich Albion on Boxing Day as City's last recognised striker Stevan Jovetic has also been ruled out of this game.
The Chilean boss has also confirmed that Manchester City captain Vincent Kompany will also miss the Boxing Day clash against West Brom, meaning Martin Demichelis and Eliaquim Mangala are likely to pair up at the heart of the defence on Friday.
The only good news for Manchester City is that Gael Clichy, who missed the last game against Crystal Palace, will be available, and Jovetic and Kompany are likey to return very soon as their injuries are not that serious.
"The strikers, Sergio, Edin Dzeko and Jovetic [are out]. Gael Clichy is okay, he has an important kick and Vincent Kompany [is still sidelined]," Pellegrini said.
"Maybe Jovetic and Kompany will be [back] soon, the end of this week or next week."
Meanwhile, Pellegrini is hoping to extend Frank Lampard's loan spell at the Etihad as he feels that the 36-year-old is a very important player for City.
The former Chelsea midfielder, who is on loan at City from their sister club New York City FC, has been in excellent form this season, scoring 6 goals from 15 appearances in all competitions.
Due to this reason, the Chilean boss is hoping to extend the 36-year-old's loan deal so that he remains at the Etihad for the entire season.
"I hope Frank's situation will be resolved in the next days," Pellegrini told a news conference on Tuesday. "I said in the beginning it will be during December that we are going to have the last decision. I repeat Frank is very important for our team so I hope he will stay here."
When asked whether New York City would be upset by their decision to extend Lampard's loan deal, the Chilean replied: "I don't think so. That is why we have long conversations with all of them. That is just one club so I think that what is better for the club is better for all the clubs."