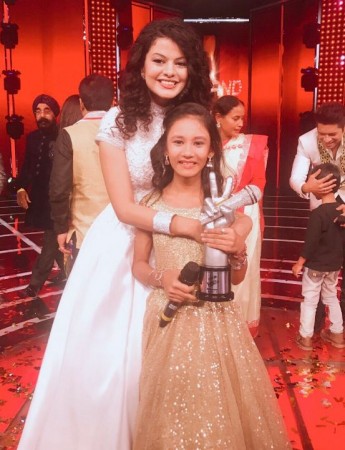 The singing reality show - The Voice India Kids 2 - declared its winner at the grand finale on Sunday, March 11. Manashi Sahariah walked away with Rs 25 lakh as a winning prize and the trophy.
Manashi, who hails from Assam, belonged to mentor Palak Muchhal's team. The grand finale of The Voice India Kids 2 saw Manashi compete with five other finalists — Shruti Goswami, Guntas Kaur, Shekinah Mukhiya, Nilanjana Roy and Mohammad Fazil for the coveted trophy.
Nilanjana was announced as the first runner-up while the second runner-up was Shruti, both of whom were awarded a cheque of Rs 10 lakh, respectively.
An elated Manashi Sahariah told The Times of India: "Firstly I would like to thank the people of my village who always believed in my talent and supported my dreams. Having said that, I am truly blessed to have mentored under the guidance of Coach Palak Muchhal because not only did she invest time and energy in me, she truly inspired me in my journey. The Voice India Kids has given me a reason to believe that talent finds its due platform. I have gained a lot on from this stage... friendship, love, respect and a teacher whom I will always treasure."
Apart from Palak Muchhal, The Voice India Kids 2 had Himesh Reshammiya and Shaan on judges panel while Jay Bhanushali hosted the show.
Congratulatory tweets are pouring in for Manashi from all corners of the country, but a few Twitter users aren't happy with her win. Take a look at some of the negative Twitter reactions:
Anubhav Gupta: #VoiceIndiaKids What an unexpected result! I think more deservers were there. It remembered me of #RisingStar1 when Maithlli didn't win. Anyway Kudos! to The winner.
@dabbangism: Unexpected... but anyways Congratulations #Manashi. In my opinion Guntas deserved to win top spot. My top 3 favorites were Guntas, Nilanjana, Fazil. #TheVoiceIndiaKids #VoiceIndiaKids @VoiceIndiaKids @singer_shaan @palakmuchhal3 #India #Bollywood #ManashiSahoriya #music #singing
Biswamoy Bose: So in #RisingStar2 a realty show, #Monali & #DishaPatani kissed a minor contestant out of affection... which I support & believe as natural... We'r humans... Contestant of #voiceindiakids kissed by #PaponControversy was molestation? Where are we heading? Cheap popularity only?
Abhir Singh Bhatia: #TheVoiceIndiaKids Disgusting... This girl who won never deserved it and was amongst the least popular... just bcoz papon kissed her you made her the winner?.I...This reality shows are so pathetic.... Horrific.... Dreadful