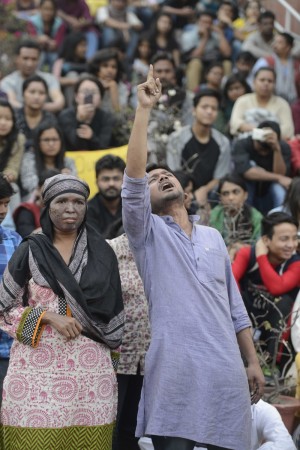 The Delhi Police on Monday reportedly arrested the man who allegedly put up posters offering Rs 11 lakh to "shoot" Jawaharlal Nehru University Students Union (JNUSU) leader Kanhaiya Kumar. Posters offering the bounty had appeared at several places in Delhi, including the Press Club of India on Saturday.
The bounty message printed in Hindi bore the name of Adarsh Sharma, claiming to be the son of Purvanchal Sena's president. Later, Sharma reportedly called Kumar a traitor for shouting anti-India slogans.
"Sharma has been arrested under charges of defacement of public property, abetment of offence punishable with imprisonment, public mischief, criminal intimidation and forgery," Press Trust of India quoted a senior police official as saying.
The poster that was stuck on walls at bus stops and metro stations in New Delhi district read: "whosoever shoots JNU Students' Union president and seditionist Kanhaiya will be rewarded Rs 11 lakh on the behalf of Purvanchal Sena," according to the Hindustan Times.
"We want the traitor dead. He has insulted mother India and raised anti-national slogans. We have faith in the court but it takes a long time for a judgement to come. We want to ensure there is a quick decision and hence, we have announced this prize money of Rs 11 lakh to be given to whosoever kills him," he told the HT.
He was earlier on Monday taken into custody for interrogation.
Sharma had switched off his mobile phone and disappeared after a case under the Delhi Prevention of Defacement of Property Act was registered against him at the Parliament Street police station, the HT cited the police. The case was filed after his posters appeared in the district.
According to the report, Sharma has only Rs 150 in his bank account and has not paid several months' rent to his landlord. Sharma, who is from Begusarai in Bihar, was living in a rented accommodation in Rohini.
"He did not have any regular source of income and for livelihood he mostly depended on money borrowed from his friends. He would often take money (Rs 100 to Rs 500) from people on the pretext of getting their work done at the local police station or civic agencies offices using his influence," the HT quoted an officer as saying on Sunday.
JNUSU president Kumar was arrested Feb. 12 on charges of sedition and criminal conspiracy for allegedly organising an event against the "judicial killing" of 2001 Parliament attack convict Afzal Guru and shouting anti-India slogans. He was released from Tihar jail on Thursday, a day after the Delhi High Court grated him an interim bail for six months.